On most Thursdays, you'll find Issa Run Crew at the Temple University Sports Complex track discussing two critical questions: "What are we running?" and "Where are we eating?

The answer to the first? Variations of speedwork totaling five kilometers — the kinds that leave everyone cursing, sweating, and slightly faster than the previous week.

As for the food? It depends. Maybe sweet-glazed, still-crackling Korean fried chicken on Girard Avenue. A toothsome pizza dripping with mozzarella, roasted corn, and smoked bacon in Fishtown. Or springy, knife-cut noodles with fall-apart brisket in Chinatown.

the specifics change from week to week. but their ritual of suffering and satiating is bringing the crew closer to their running goals — and to one another.
"Thursdays are more intimate than our other group runs," says Richard Issa, 38, crew founder, Ciele Athletics FRND, and customer experience team member at Tracksmith. "It's like Voltron. All the elements come together to create one perfect night."

For Philly transplants like Rob De La Cruz, a 32-year-old student from Orlando, the evenings served as an unofficial introduction to speedwork and the city. Together, the team careens from track corner to corner, cuisine to cuisine.

"We transfer the fun we have on the track to a restaurant, and get an early start to the weekend," Rob says. "It's awesome to have that three hours every week, 6:30 to 9:30. Finishing a tough workout. Earning a good meal with your friends. There's nothing better than that."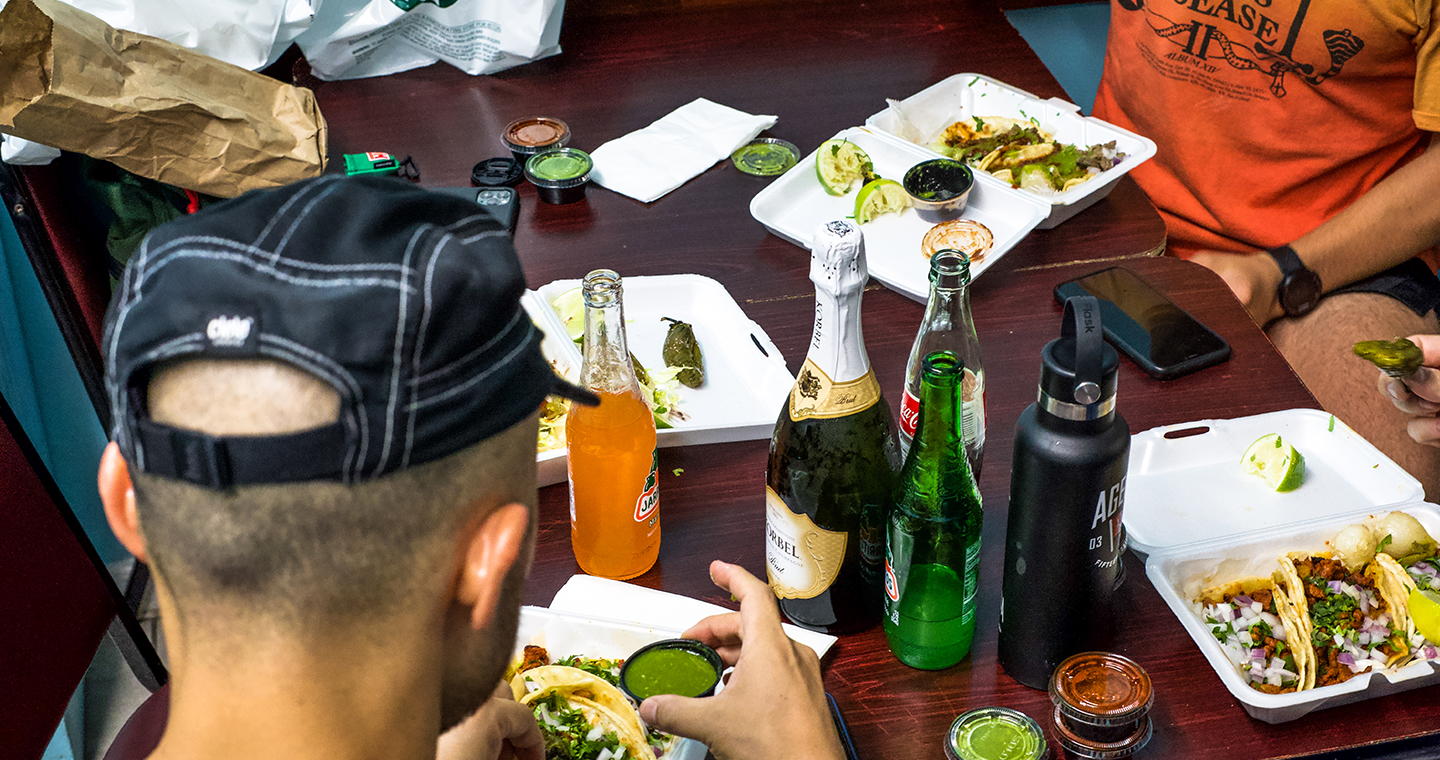 It's pain then pleasure, the proverbial carrot on a stick. Except the carrot is a drool-inducing meal with flavors you may have never tried, recommended by friends you trust.

But first, you've got to get past 400 meters of rubber and resentment, on repeat.

how not to get run over by an elite
For a first-timer, the track is an inherently intimidating place.

The track's regulars blaze past inhumanly fast, svelte limbs synchronized in graceful, gazelle-like strides.

Then there's you, the newbie, feeling a little pudgy and wondering how far 300 meters is.

Richard estimates 85% of newcomers to the crew's Thursday runs have never touched a track. "We're in that gray area — we're not trying to go pro, but we're trying to get better," he says. "And the track is where you make the most gains."

So the crew tackles it together — a mix of beginners, former high school runners, sports converts, and everything in between.

They carry conversations from warmup to cooldown. As the crewmates stretch, they share and compare training updates, workout regimens, and Strava pro-tips.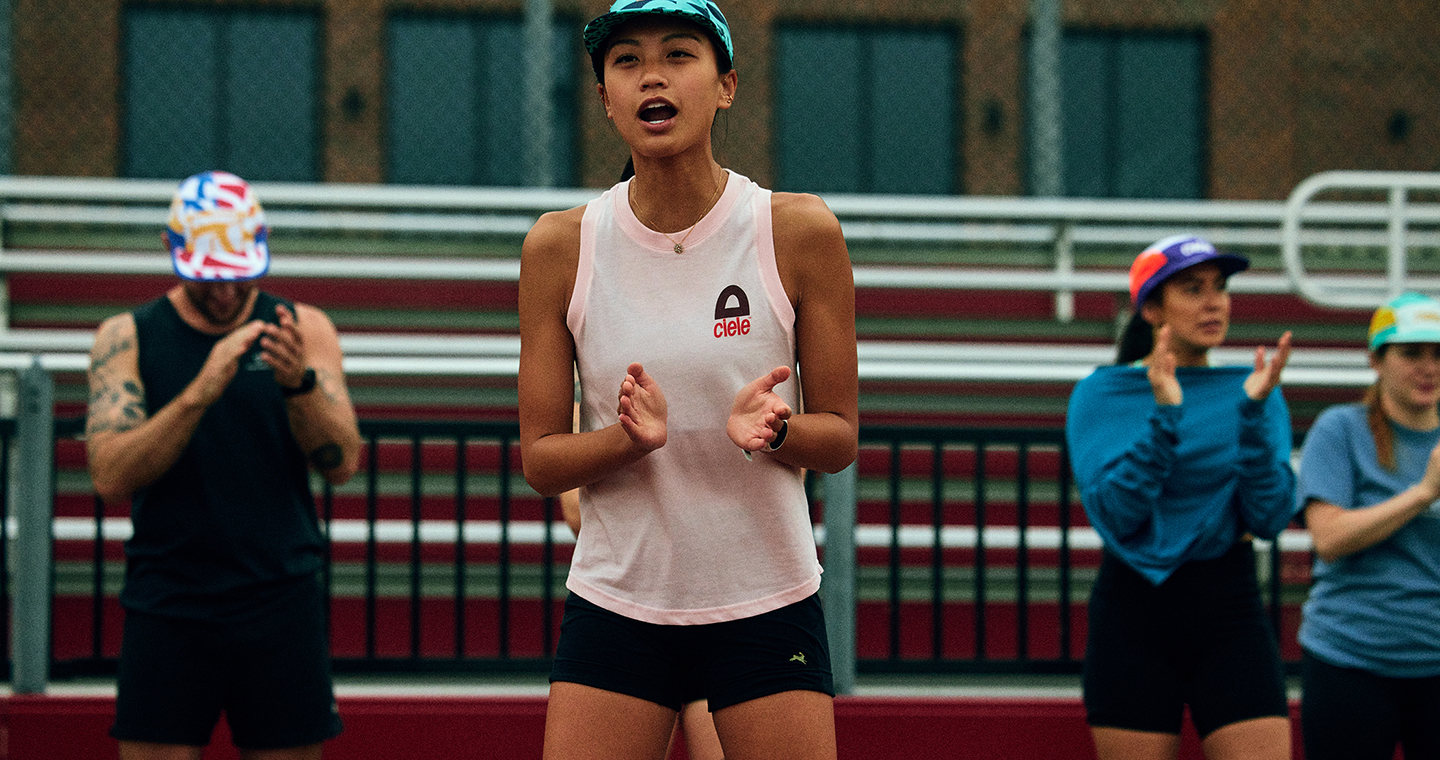 At the starting line, Richard asks, "Are you ready to meet your maker?" A chorus of Garmin watches chimes in response, and the team takes off, a fiery mass of adrenaline.

Hot breaths and firm footstrikes tell them where they've fallen in line. As they break apart at different paces, affirmations ring from different corners of the track: "Looking good, nice work!"

And at the finish, Richard's voice again: "Relax your shoulders! Swing those arms! Kick! Kick!"

Initially, it feels like hell — endless repetitions of lung-burning, spit-thickening punishment.

Then the clarity kicks in. There are no potholes to dodge here. No ornery bicyclists, SEPTA buses, or Wawa litter. Just you, your persistence, and your crew.

"there's a camaraderie that makes it a lot of fun," says john castellaneta, 33, physics teacher. "it doesn't matter if you're faster or slower — you're all on the same track. you complain about the workout together. you feel like you're part of a team."
Running as a pack, those intimidating track rules become more familiar. You watch for sprinters cannon-balling your way. You hug the inside lane. You listen to your body, going by feel. Gradually, miraculously — you get faster.
John has seen massive improvements in his shorter races. Rob shaved off a full minute off his mile in just 10 weeks. Keri Girmindl, 38, a record store owner, has dropped her 5K time to within 10 seconds of her PR — from back in high school.

"Real friends push you to be better, and this group does that," says Jack Wittenstein, 23, development associate at the Children's Hospital of Philadelphia. "You always have someone cheering for you. Everyone gets so psyched when someone PRs or has a good workout. And then you go get food and celebrate."

Four rules for feeding a small group of hangry runners:

First, the spot needs to be open late. Second, it needs to be casual — welcoming walk-ins and sweat-drenched singlets. Third, it needs to be relatively inexpensive — because runners have better things to do with their money, like stockpiling carbon-plated shoes.

Most importantly, it needs to be good.

For Issa Run Crew, good began with burgers and beer — a way to extend outdoor hangouts in summer of 2020.

As months passed, members began discussing everything else Philadelphia had to offer. The dishes that reminded them of their families' cooking. The if-you-know-you-know and mom-and-pop spots reflecting the runners' histories in other cities, states, and countries.

Now they take turns choosing places to eat — no repeats allowed. Each Thursday is a mini-food tour of the city's best bites, spanning Philadelphia's neighborhoods and the world's cuisines.

Nan Zhou Hand Drawn Noodle House for chewy, spicy slices of pig ear and beef tendon, served on a bed of pickled radish to cut the heat.

Taqueria La Prima for brightly tangy tacos al pastor, overflowing from double corn tortillas and topped with whole blistered jalapeño.

Charred Korean barbecue, straight off the grill onto pristine white rice, chased by ice-cold soju that's been secured discreetly because the bar's technically closed.

"We get to see parts of the city we normally wouldn't go to, trying new foods instead of eating at the same spots," says Pat Binkley, 36, designer.

"it feels like a road trip, but in your own city. I've always got it in the back of my head — would that be a good spot? it's changed the way I think."
Part of that consideration is the intimidation factor. Similar to the track, dishes can signal comfort food to some, and foreign concept to others. The experience spurs more conversation — what is this dish? How do we eat it? Should we order more of that?

You might find yourself explaining why the tomato pie is cold to someone who showed you how to program your watch 30 minutes ago. Or getting served sizzling pork belly by the person you helped PR their 400. It's a continued cycle of giving and taking, sharing and learning.

For Keri, it's also a chance to reframe misconceptions about eating. "I know a lot of runners – especially women – who've developed messed up relationships with food to get faster," she says.

"But it's important to be able to house a bunch of food," Keri continues. "I'm glad we eat together on our hardest day of training. Food is an essential part of training and recovery. A lot of people forget that part of eating is celebrating."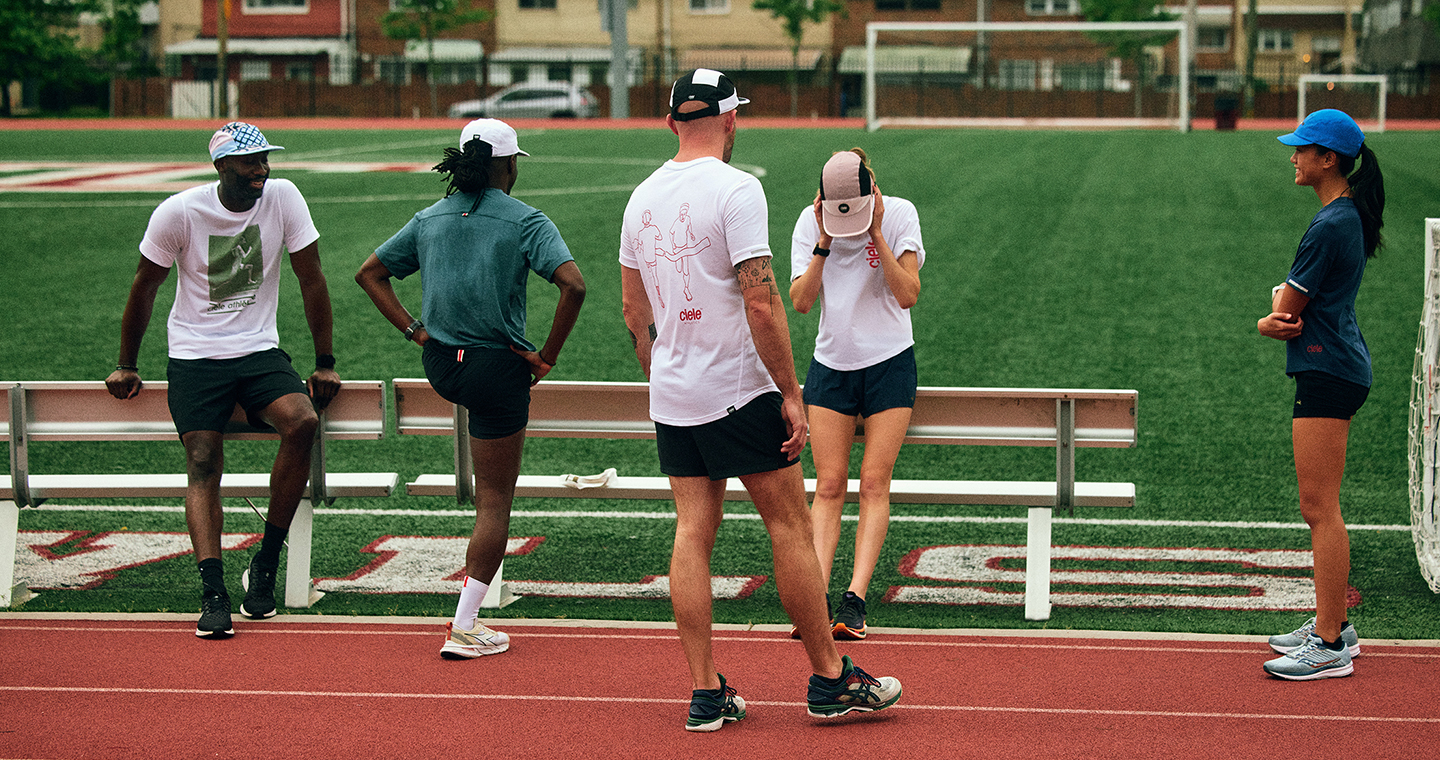 So the Issa Run Crew celebrates hard. Drinks are clinked. Plates are passed. Memories get made in a runner's high-fueled feast.

For 24-year-old student Amber Glenn, it's an experience epitomized by the crew's foray into Korean barbecue.

"What's past cloud nine? I was on cloud 100," she says. "Getting done with a tough workout. Passing meats and vegetables around. Radish kimchi that just keeps coming. Having a good time with good food, good people, and good vibes. It's one of my best memories with the crew."

On a recent Sunday morning, Pat considered slowing down. He was on the final stretch of this year's Philly 10K, energy draining, limbs aching.

Then he heard Richard's voice cut through the cheers.

"This is what you trained for! Put those track days to use! Relax your shoulders! Swing those arms! Kick! Kick!"

Pat kicked. And he PRed — along with John, Richard himself, and two other Issa Run Crew track regulars.

They snapped a few photos. They recovered in compression boots. And then they set out on South Street, in search of the next bite to cement their victories.