taming the ego; discovering mindfulness in mexico city
I signed up for the Mexico City trip with Aire Libre on a whim after much convincing from the one and only Gordon Clark. I didn't really know what Aire Libre was–I had seen beautiful pictures on Instagram from their excursions, but I never thought I'd actually participate until two of my favorite people–Matt Meyer and Gordon–told me they were going and I should join.

I was in the middle of a 5k training block and I had just moved to LA, so the negative part of my brain told me it would be inconvenient. It's going to mess up your routine. You don't have the time or the energy.
I come from a competitive middle distance running background. I am not elite by any means, but I can win a local race or two. The last few years I've focused on the 800m, mile, and I've even done a few 400s. Now I'm back to racing 5ks and 10ks on the roads. I recently won the Santa Monica Classic in 17:58 and ran a 10k road PR at Dana Point (37:58). Times I'm very proud of after long battles with a torn hamstring and being diagnosed with hypothyroidism.

Adventure runs and running retreats were never my thing. To me, they always felt soft and uninspiring. A symptom of our participation trophy generation. I've always believed running should be about setting goals, achieving them, and working your ass off to make incremental gains. I can't stand when people complain about running being too hard. Running is about hurting and trying over and over until you have a breakthrough, and it's not fun most of the time. I guess this attitude sounds rather harsh, but it's how I grew up. Being raised in a hyper-conservative, religious community, I was a rule follower and it took years to learn how to let go of control and allow myself to enjoy things in life. I'm still peeling back the layers of fundamentalist thinking.

That being said, my late twenties and early thirties have been about introducing spontaneity into my life and rewiring my brain to not feel guilty about taking time for myself. So after a few brief moments of reflection I was just like, Fuck it. Let's try something new. I'm going to Mexico City.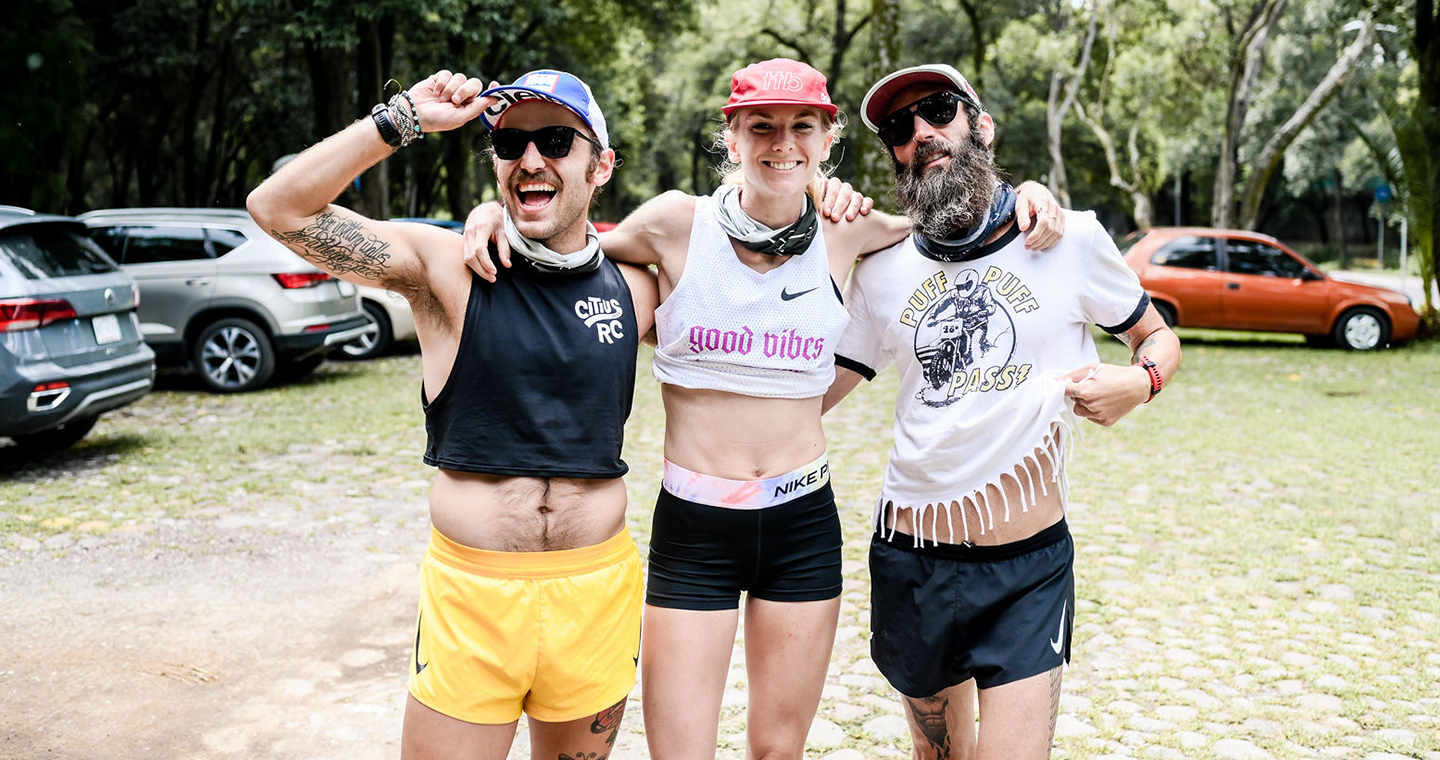 Arrival

Altitude sucks. Dry mouth, morning headaches, heavy legs. If being in shape is a dial, then running at altitude feels like turning it back several notches. Mexico City sits 7,349 feet above sea level. About 700 years ago, the city (originally called Tenochtitlan) was quite literally built on a lake by the Aztecs who believed it was destined by their god Huitzilopochtli. Today it's a thriving city rich with history, art, incredible food, gardens, parks, and more.

Matt, Gordon, and I arrived a day early. We wanted to get dinner with Mau, founder of Aire Libre, and have a day to ourselves before the rest of the crew came in. The next three days would be some of the most magical experiences of my life. I'm not entirely sure how to summarize it all, but the Aire Libre experience was a saturated mix of soul-searching, exquisite gastronomy, and running in a completely new way. It changed my perspective on life.
Day 1: Mexico City on Foot

A big pet peeve of mine when running is stopping. I hate it. The start/stop motion messes up my rhythm and I won't count a run in my weekly mileage if there's too much stopping. So of course, a 6-mile run through Mexico City where we'd be stopping at three bars and a few landmarks along the way felt entirely outside of my comfort zone. That's why I ran earlier that morning to get my "real" run in. I also don't drink much. Do I sound fun to be around?

Our group met up for the first time Friday afternoon ready to go. It was a wonderful collective of people from all places–a group of women from Texas, a woman from Chile, a guy from Germany, Matty from Boulder, and then me and Gordon from LA. Everyone came from a different running background. Some were marathoners, some were just getting into running. I was definitely the only one who ran track though, ha.

Within the first few minutes of our run, it started drizzling. Our bar crawl (or run, rather) stopped at some super fun local places (Drunken Dog was a favorite). With each pit stop, the group started to mesh a bit more. A little mezcal here, a beer there. We were all sweaty, wet, hungry, and a little buzzed. A bunch of us were out of breath from the altitude. We laughed and joked, asked each other poignant questions, shivered at the bar when our bodies had cooled down, and warmed right back up as we ran to our next venue. I was soaked to the bone, but the smoky mezcal kept my chest warm and my heart pumping. This was also the first time post-pandemic and post-vaccine I'd been in such a large group of people having fun.

By the end of the run our group had bonded and it was time for dinner. And yeah, I counted those mezcal miles in Strava.

Day 2: Chinampas

Day 2 I was a bit hungover. Or maybe it was the altitude and waking up with a dry mouth. Probably both. Our crew had a full day ahead. First stop: the Aztec Chinampas about an hour outside of the city.

Getting to the Chinampas was quite a trip. We arrived at the entrance and proceeded to drive about a mile in mud and rocks. Our sprinter van rattled and squealed and spun out. When we got out, I must have witnessed the greenest place on earth. The Chinampas, or "floating gardens," spread for acres. The Mexican people still use this 700-year-old farming technique to produce some of the richest soil and crops. They delicately navigate the canals with wooden boats to get from one floating garden to the next. It's beautiful and every deep shade of green and blue, and you feel like you are part of the earth.

We floated through the canals (on the boats, of course) and then did yoga on one of the larger farming areas.
I took my shoes off and squished my toes in the soil teeming with little bugs and velvety dirt. it wasn't gross or dirty; it was alive and enriching.
I felt like the soil was entering my pores and feeding my cells. I thought of all the plastic pollution and microscopic, insidious black particles wafting through the air back in the city, back at home. Oh, and those fucking trash islands floating in the middle of the ocean. The antithesis of the Chinampas. Why do we destroy earth? Modern civilization and industrialism have betrayed every living thing. We actively bite the hand that feeds. It was T.S. Elliot who said, "This is the way the world ends, not with a bang, but a whimper." We will cannibalize our resources and asphyxiate ourselves. We could have listened to the ancients. We can still hold on to these remnants, just like the Mexican agriculturalists do.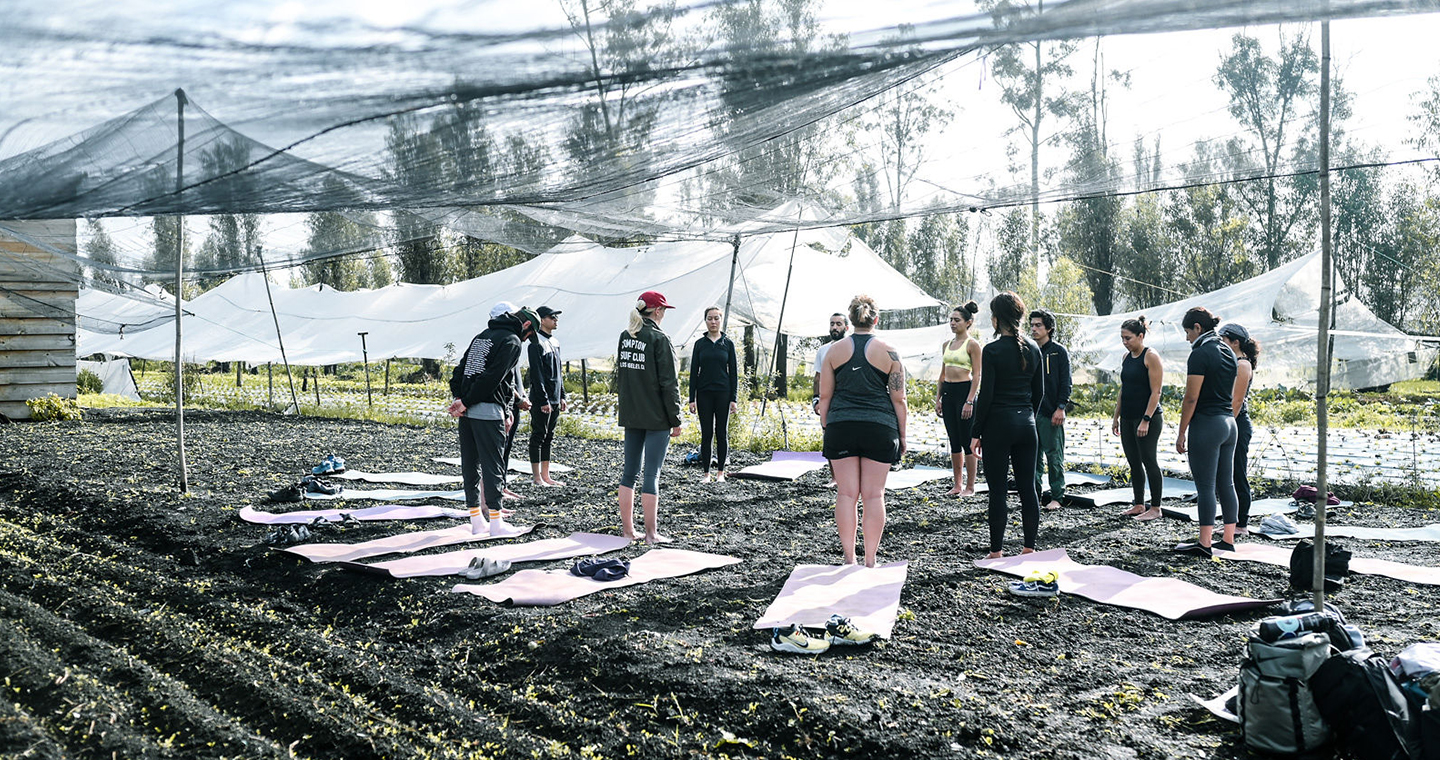 Day 3: Nevado De Toluca and Temazcal

You thought 7,000 feet was harsh on the lungs? Try 15,000. That's Nevado De Toluca, a volcano built on multiple layers of hardened lava and tephra. It's also Mexico's 4th highest peak. And that Sunday morning, Toluca was my teacher, my coach, my friend, my God.

As I mentioned earlier, I grew up pretty religious. I deconstructed from faith in my early twenties after being incredibly hurt by the church's teachings and coming to the realization that there was no one, single path to love, truth, and self-acceptance. Day 3 of the Aire Libre experience was an incredibly spiritual one for me and entirely unexpected. I never thought I'd revisit thoughts of God or pray again. I'd cut "God" out of my life for valid reasons.

That day on the climb to the summit, I guess that's the closest I'd felt to God and connected to the greater universe in a long, long time. It's hard not to feel that way when all you have is labored breath and your mind. We walk-jogged about 2,000 feet of elevation that morning and my legs felt like two tree trunks wading through molasses. The misty clouds weaved in and out of the trail, opening up pockets of space and making time feel irrelevant.
voices came and went in the distance, belonging to no one. I was alone and alive.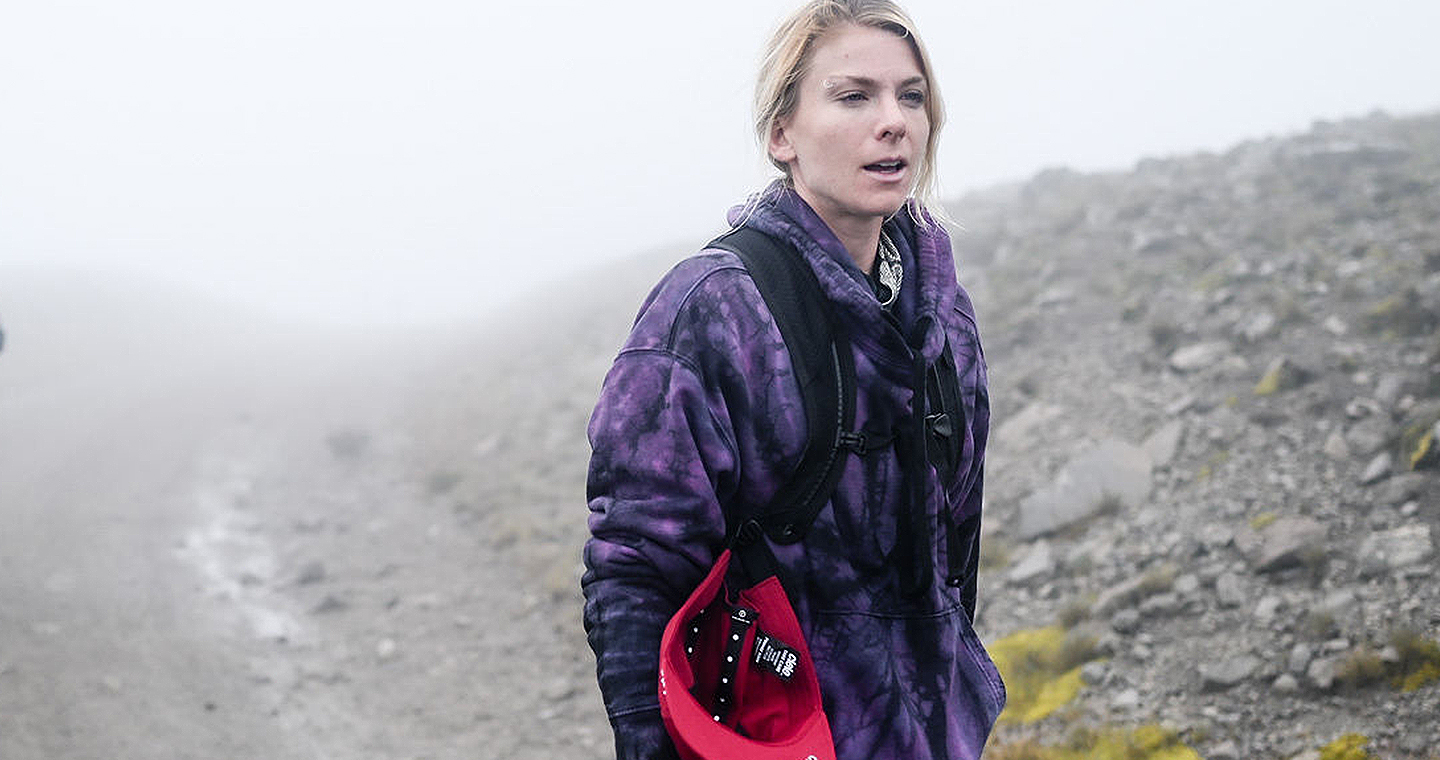 At one point, the mist cleared and revealed a lake, quietly inviting me and my new Aire Libre friend Kaila to stop and take a look. We were in dreamland. And it was about to get more surreal with the Temazcal ceremony.

What the fuck is a Temazcal ceremony? I didn't know until halfway into the trip, when Gordon started mentally preparing us for the "magical sweat lodge" that made his legs cramp and expunged all the demons from his soul. I was nervous.

The ceremony began Sunday evening after we'd descended from the mountain. It was thundering in the distance. Our Mexican shaman named Quitsi performed a ritual with burning sage for all 15 of us, swirling the smoke around our abdomens. "You are a goddess," he told me. One by one, we entered the cramped mud hut filled with heated stones.
The next hour felt like I had ascended into another world. Maybe it was 2 hours. I don't know. Quitsi was chanting, humming, speaking prophecies into the steamy air. People were laughing, yelling, singing, beating their hands against their chest. Thirty minutes into the ceremony, I started weeping loudly. It was a raw wailing, a painful release that had been sitting in the pit of my chest for quite some time. I sat there curled in a ball, covered in my own tears, sweat, snot, and sticky aloe from the leaves Quitsi handed us earlier.
I spoke into the darkness words of anger, words of thanks. the group responded with encouraging hums and clapping.
At one point, Quitsi grabbed my hand and placed his mouth on my palm. He inhaled dramatically and proceeded to spit into the stones, making loud regurgitation noises.

"What is he doing?" I asked Saidde, our yoga teacher and interpreter.

"He says he is 'getting rid of the sad'" she said in a cheerful voice that carried through the steamy center of the hut.
Home

I came home to my Los Angeles apartment empty and full. I thought I'd be antsy to get back into my routine after taking a break from my normal track intervals. Before the trip, I told myself that my CMDX runs would be "easy," and as soon as I returned home the "real" training would resume.

But the Aire Libre trip was far from easy, in the most humbling way. It challenged me in new ways years of competitive running never had. When you're in the post-collegiate running scene, the community can sometimes feel small and stifling: a hierarchy based on who is the fastest, the most connected to certain brands, the most worthy of celebration on Instagram. Not only that, but you are constantly surrounded by other bodies that look just like you–lean, sinewy, Caucasian, especially in Boston where I lived for 8 years. It lacks diversity and rewards popularity.

Aire Libre stripped away the ego, the Strava crowns, and the expectations. We had ultramarathoners, trail runners, beginners, dabblers from all over, and me, the middle distance runner.
it was a really beautiful thing to feel completely equal to the person next me, and to not be asked about my weekly mileage or my upcoming races.
A week after coming home from CDMX, I won a local 5k in 17:58. And then I won another 5k two weeks later in 18:09 on a brutally uphill course, with not much distance training under my belt. I haven't won anything in like, five years. And here I was thinking that an adventure running trip would set back my training.

To be a more mindful runner, we must soften the heart and engage in more fluid training. We must embrace the roadblocks, the small wins, the injuries, the lack of control. We may not get everything we want and we might never be as fast as we dreamed. But we will find joy in every moment.

"At the end of your life you will not find happiness or love. Only yourself." That's what Quitsi told us between chants and hissing sounds of water being poured over burning hot stones. I've been thinking about it ever since.