grabbing the silver lining
You don't hear too many people saying "having my arm amputated was the best decision I've ever made." When it became clear that Amanda Rummery's left arm wasn't going to magically repair back to normal, she knew she'd be better without the dead weight that her arm had unfortunately become.

And she has no regrets, she actually wished she did it sooner. What some people may have perceived as a setback, she let it propel her forward. With one less arm, she's on a journey to represent Canada at the Paralympics as a 400m sprinter — something she never imagined doing. She's grabbing the silver lining by the horns.

Two years after the accident that cost her arm, she joined a Para Athletics club that had just started at the University of Alberta to stay active. After a couple of months of training, it was her coach Maegan Ciesielski, who saw a glimmer of potential that could be molded into something bigger. Of course, Amanda would need to commit to wanting to get better and put in the work, but she was ready to start writing the next chapter of her story.
Despite never competing as a runner with two arms, she figured she had nothing to lose by starting now with her new body.
she didn't know how to use a starting block or how to pump both arms to accelerate, but it wasn't unlearning — it was the opposite, it was growth.
Some people might not know that in the Paralympics there are specific events within track and field that people with certain disabilities can compete in. And for females with an arm impairment the only track events offered are the 100m, 200m, and 400m. After numerous trials at various distances, Amanda and her coach decided that she was best suited for the 400m. The fuse had been lit; she was ready to become the best sprinter she could be.

Ironically, Rummery wasn't particularly athletic growing up. She was involved in recreational sports as much as the next kid. Having always thought of herself as average with no particular genius qualities, hearing that she had potential to be a competitive 400m sprinter was a real turning point. There was an untapped potential she didn't even know she had within herself.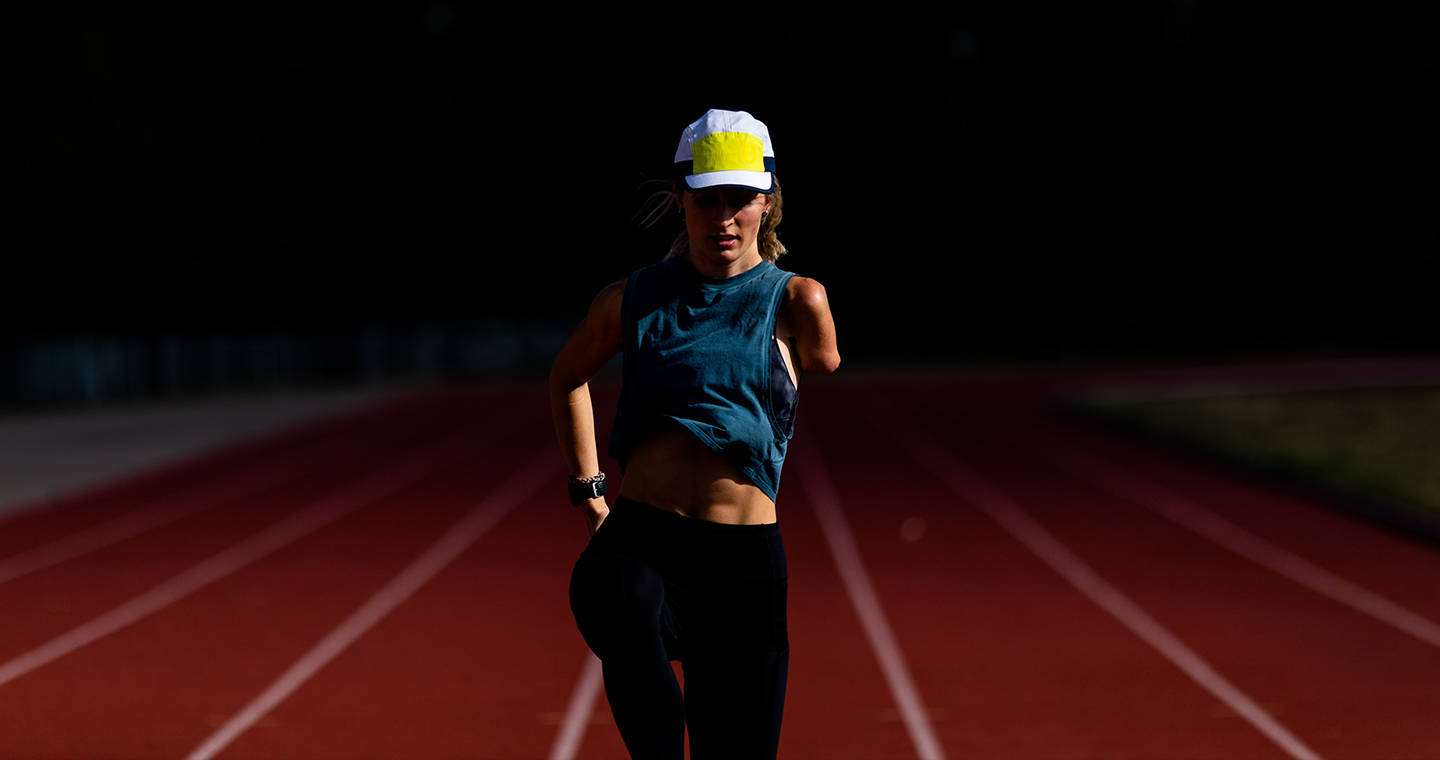 Losing her arm was an example of something she had no control over — it could've happened to anyone. There will always be things in life that we can't control but you can find peace in knowing that some things will always be constant. And for her, running became an outlet that came exactly at a time in her life when she needed it the most. But it's her determination and commitment that are helping her to achieve her dreams.

Like anyone starting a new training program or picking up a new sport, there are no shortcuts to success. Most athletes have a routine that works for them. Having structure is comforting in more than one way. A game plan and consistency are necessary to propel athletes through both the highs and lows. The track will always be 400m waiting for you to grind it out. After all, you only get what you want if you put the work in — no matter how you're feeling.

She often trains with the able-bodied track team at the University of Alberta since there aren't that many local athletes with disabilities to compete against. Initially, when racing against them, she'd come in dead last. But rather than let that deter her, it fueled her even more and she threw herself into her training. And it paid off when the tables turned. Her times continue to get faster and faster. But it wasn't winning that felt good, it was knowing that her fitness was improving.
Even though it's not necessarily an even playing field, some of the able-bodied athletes would try to relate to her. She'd often hear comments like "I broke my arm once" or "I tried running with my arm in a sling" which had kind intentions but ultimately, weren't remotely close to Amanda's reality. While it's important to try to understand other people's perspectives, only Amanda knows what it's like to be the one training in her shoes.

Many athletes are united in their passion for sport but no two journeys are alike.
there's something beautiful about finding connection despite having opposite experiences and we should celebrate that.
While she's hungry to achieve world champion status one day, she doesn't run purely just to win. Competitive athletes might think that's a ludicrous mindset. What's the point if it's not for gold? For Amanda, it's so much more personal than having to prove to the outside world what she's capable of. She runs to be the best athlete she can be.

"I don't run to win first place. I run to put out a time that reflects where I'm at with my training. And I think more people should focus on their "why" rather than always comparing themselves to others," says Amanda.

Surprisingly, Amanda is the only female arm amputee runner in Canada at the pro level. She hopes that through her platform, she can advocate for more programs in Canada to attract youth at the grassroots level with Para-sport. Because, sport has the power to shape who we become. Confidence, respect, resilience, accountability, patience, leadership and so many other positive traits are life changing characteristics that are developed by participating in sports. Our neighbours south of the border are leaps and bounds ahead of us when it comes to Para-sport programs and competitions for kids. Our country prides itself on diversity and inclusion, yet we fall short. We need to do better.

While it truly is amazing to watch athletes at the Paralympics achieve the highest accolades in the world, for Amanda, she doesn't want to be purely known as inspirational. "Sometimes the word inspirational gets thrown around a little too often in relation to people with disabilities," she says.
"Yes, our bodies might be different from "normal" people but aren't we all unique with our own imperfections?"
for amanda, being motivational is much more rewarding. whether there's a kid who's also missing an arm or not, she wants people to make their own life changes and embrace a healthy lifestyle.
She lives by the motto no excuses. Whether on or off the track, she's focused on making small meaningful changes to be better than yesterday. It's a growth mindset that anyone can apply in their own daily life. Regardless of where you are, you can always have a fresh start to be better.

For her, making the 2024 Paralympic team is much more than just achieving a personal goal. She wants to reinforce a different narrative – no matter what your body looks like or what's happened in the past anything is possible.

For Amanda, and many others, running brings her pure joy because it makes her the happiest and healthiest version of herself. The track is where she comes alive; it fosters her continual positivity, upbeat attitude, and unyielding gratefulness. And it's a feeling that she wants everyone to experience for themselves.