When you first meet Brad Heaven, he lets you know—through an eye tracking device—how he will communicate with you. Brad was born with nonverbal spastic quadriplegic cerebral palsy and has never been able to verbally communicate. His Tobii Dynavox eye tracking device tracks his pupils, and he chooses letters to form sentences that are broadcast through his device's speakers. The rest is all Brad:
"I'll communicate non-verbally by gesturing or making sounds. thanks for taking the time to hear me out. if you have any questions, please feel free to ask. I'm an open book."
"He's got through college with eye tracking." adds his aide of 11 years, Daniel O'Connor. "He's written 10,000-word papers." Together, the two Montreal-based friends have navigated high school from grade seven onward. Dan pushed Brad to class, took notes, and "just basically was by his side to help with anything he needed assistance with." That's how it started. For 11 years the two have "basically been attached at the hips," and are now best friends. Two years ago, the duo even went into business together, founding the first ever one-stop-shop for adaptive products and assistive technology for people with various disabilities. But they don't just showcase adaptive equipment. They provide inspiration. On October 17th, 2021, the two men helped each other run a marathon.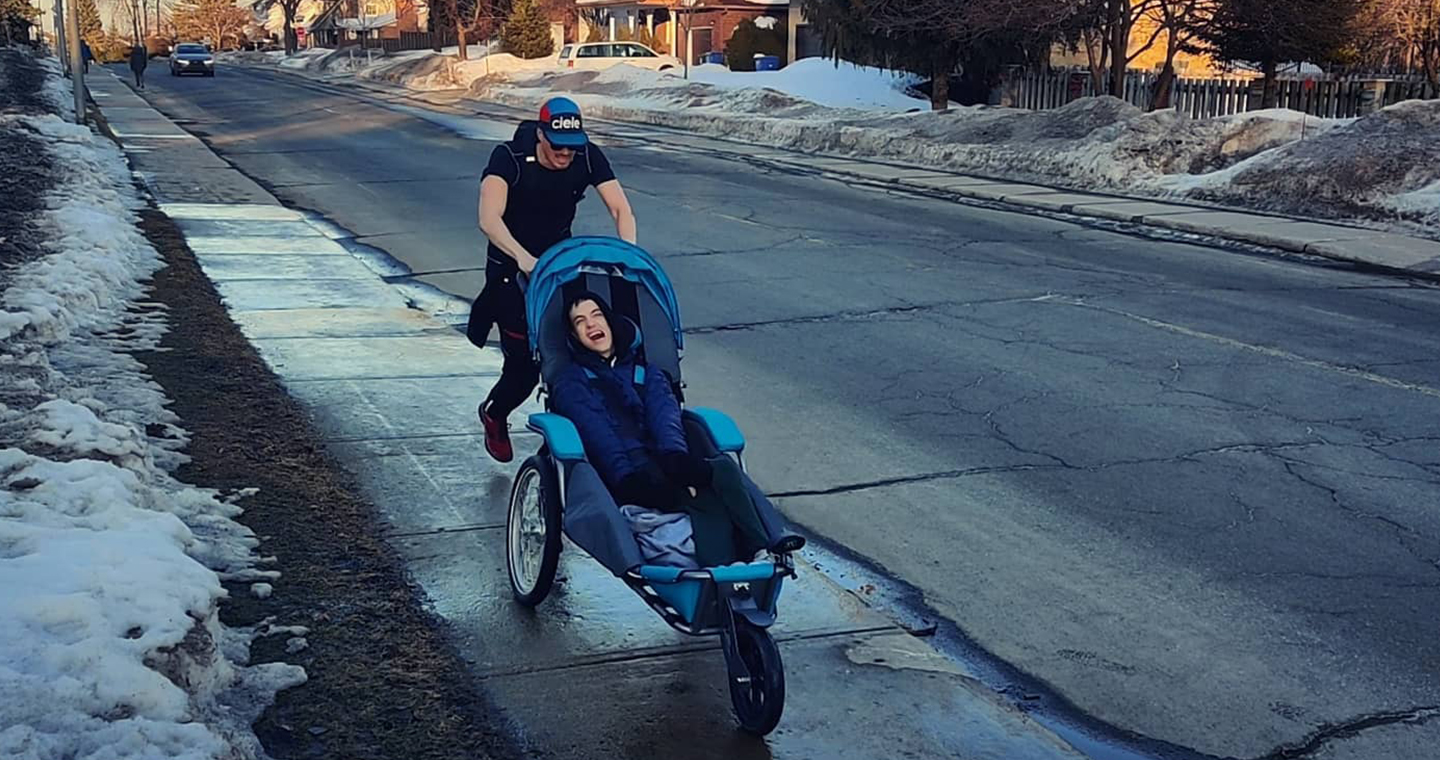 "Over a year ago, Brad set a goal to run the last 2.2 km of a 42.2 km marathon using his adaptive Rifton gait trainer." Says Dan. "The plan was that I would run 40 kilometres, pushing Brad in his Josi, an adaptive jogging stroller." When the final couple kilometres would arrive, Brad would be transferred into his gait trainer to finish the marathon.

"To be honest, at first it seemed a bit too ambitious." Says Dan, from the All Access HQ in Montreal. "The furthest Brad had ever ran before setting this goal was about one kilometre." The new goal would be more than double the original, but 11 years at Brad's side had taught him to never underestimate his tenacity. "Brad always aims high and it's truly an honour to help him achieve anything he sets his mind to, so I was onboard with his ambitious goal." Both men knew it wouldn't be easy.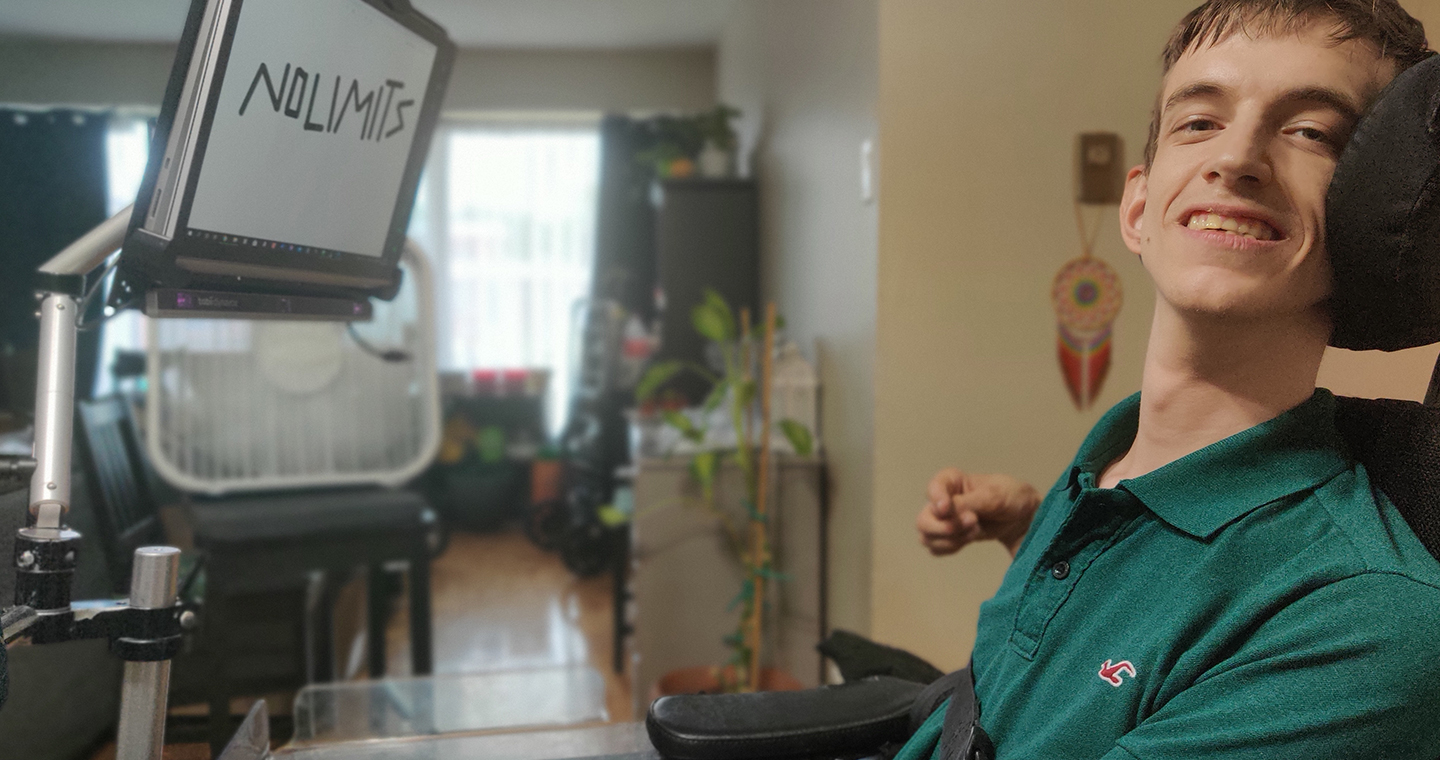 Inspiration leads to more inspiration and running runs deep in it. In 1977, cerebral palsy hero Rick Hoyt asked his father if they could participate together in a race that would benefit a fellow student who had become paralyzed. Dick Hoyt, who was not a runner and was 36 years old at the time, said yes. Fast forward a few decades and the duo had competed in 1,130 endurance events, including 72 marathons and six Ironman Triathlons. They ran the Boston Marathon 32 times. "I think one of their fastest [marathon times] is two hours and 40 minutes." says Dan. "So I told Brad 'Hey, listen one day that's gonna be us. I had no idea how we would do it or when we would do it."
When the pandemic came, it wreaked havoc on the two men. "Brad was very isolated, so we were looking for activities to do together outdoors." Says Dan. "Why don't we try and do a marathon?"

There was one problem. The team needed an adaptive jogging stroller, and they cost upwards of $5000. "We didn't have this kind of money. Since we film adaptive product reviews on our YouTube channel, we decided to reach out to a bunch of different manufacturers of adaptive jogging strollers and one of them got back to us."

"Josi" answers Dan.

The people behind the Josi adaptive stroller said, "You guys can have it if you create a review of it and run your marathon using it."

Inspiration leads to inspiration.

"We were blown away by that." Says Brad. "It's a game changer, an amazing piece of equipment. We said 'okay, I guess it's time to go run a marathon. Let's raise some money for our non profit."

The team started a GoFundMe with a goal of $50,000. "We hit that goal, and sponsors like Logitech, Wix, Tobii Dynavox, Muve, Rifton and Ciele jumped on board."

They wanted to take on the Montreal Marathon, but it was cancelled. The two men would not let that hold them back. "The whole theme of the marathon was "no limits" so we weren't about to quit just because it was canceled."

Only half marathons remained in 2021, so Brad and Dan made a plan to pre-run a half on their own and come into the start of the Demi-Marathon Lachine to fulfill a full 42.2 kilometre distance in one go.

The two began running at six AM on October 17th. It's pitch black and cold. Brad covered in a blanket and Dan ready to push. "We kicked off our run at a nice easy pace. The streets were completely empty." Says Dan. "The only sound that could be heard was our "Defy Logic" flag that Logitech provided flapping in the wind. The first two kilometres went by quickly. The furthest distance I've ever ran was 32 kilometres without pushing Brad. The longest we'd ever run together was a half marathon."

When they arrived at the Demi Marathon Lachine seven more runners joined them. All of them were wearing custom Ciele hats with the logo Brad drew using eye-tracking software: No Limits. The biggest challenges were yet to come.

On the day of the run, the team had planned to transfer Brad from the adaptive stroller to the adaptive jogger 2.2 kilometres from the finish. "We already chose a location to do the transfer, and his mom was waiting there with the walker. But we had made a mistake." The runners had only put in 17 kilometres of the Demi Marathon Lachine, leaving over 4000 metres left which was more than double the furthest distance Brad has ever ran.

"Yeah, we were freaking out." Says Brad.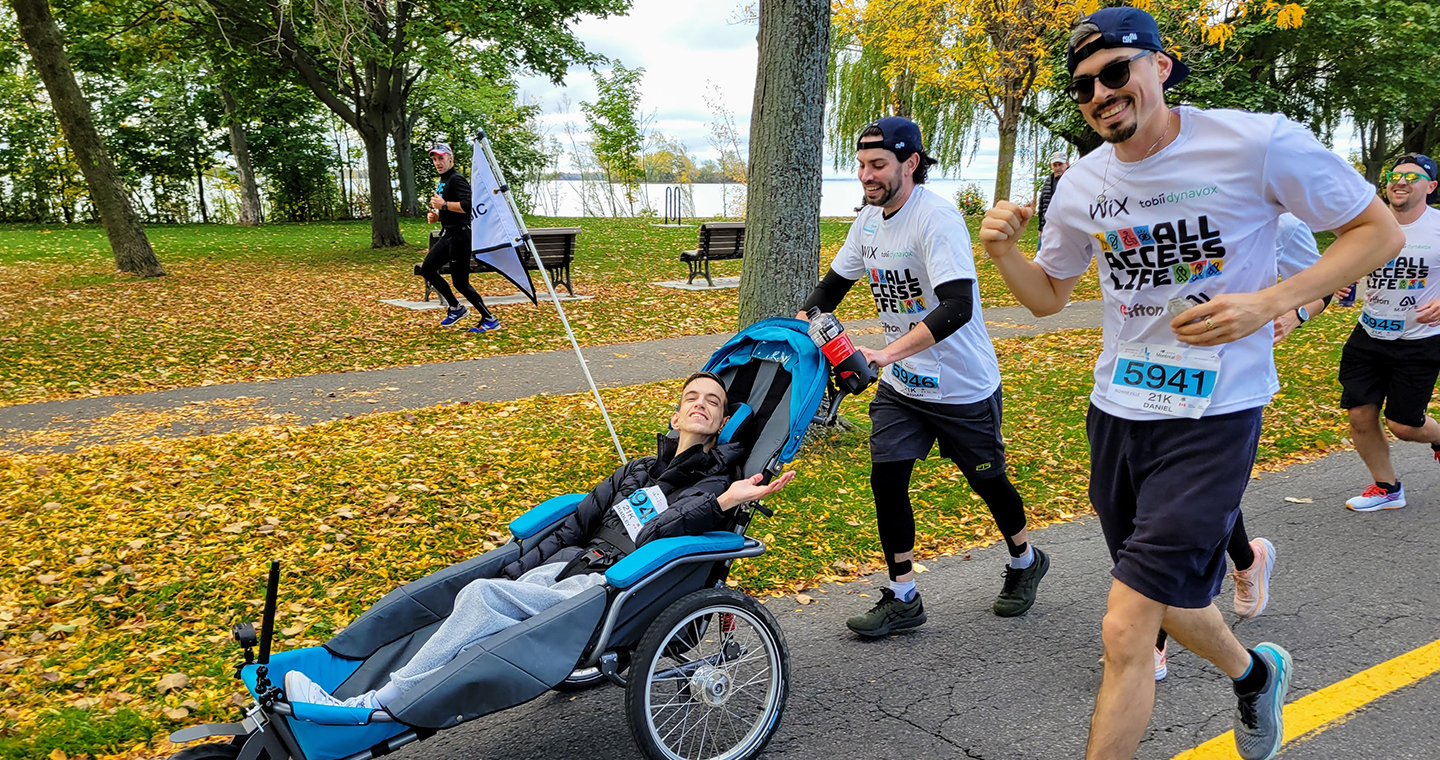 Without technology—on the run—the two friends have found a way to communicate without speech. "We've been working together for 11 years later so we actually have our own way of communicating." Says Dan. "If I'm talking and he looks up it could mean what, or where, or when, or who, or why. I just know." Additionally, the two have a simple and practiced system of walking through the alphabet to spell out words. On that day with over four daunting kilometres left—the hardest stretch—Dan looked at Brad to gauge how he felt. "He gave me that look, like 'let's do this."

After transferring Brad to the adaptive jogger, Danny's girlfriend noticed a problem. "She said 'Danny, you might wanna look at Brad's knee right now.' It was covered in blood." The friction of Brad's knees rubbing together while in the adaptive jogging stroller for three hours caused a golf ball-size wound. "It was pretty gruesome." Says Dan.

With a distance he had never attempted ahead of him, a bleeding Brad put his head down and went for it anyway. "We thought we were going to have to cancel the race and call the medics." Says Dan.

"but brad just kept, you know, just putting one foot in front of the other. everybody was cheering him on: 'brad. you got this!"
With 200 metres to the finish line, Brad had "zero left in the gas tank."

"It was unreal." Says Brad, his pride beaming through the Zoom call.

Brad and Dan crossed the finish line together with their support team in 4:44:46 combining both their half marathons. Brad slumped down. Done. His team swiftly moved in and transferred him back to his chair. "It was one of those moments in life…everybody was just connected. The vibes were amazing." Says Dan. "It was like a movie."

"Danny is amazing." Says Brad.

Inspiration leads to inspiration, and Brad and Dan's awe-inspiring accomplishment will undoubtedly encourage others. From the finish line of the Lachine Half Marathon on that day, the response from the followers of All Access, and from the desk of this writer, it appears their footprints will continue to move us all.