Tim Cousins and Leighton Spencer registered for the 2020 Chicago Marathon almost immediately after finishing the New York City Marathon in 2019. Three months after registering, they were dropped into the same gulf the rest of the world was. COVID ushered in an abrupt break from the forward motion of life. Their marathoning momentum evaporated. Only in the last few months, it's become clear: running Chicago is going to serve an entirely different purpose from what they thought it would.
---
Tim: When was the first time we flew up from Austin, Leighton, and went to go watch the New York City marathon? Was that 2015?

Leighton: Yeah I think so.

Tim: I can't remember what the year was we started doing it, but basically we were going to see the NYC marathon from a friend's Brooklyn watch party. And I think after every single one of those trips, while we were watching it and hanging out with Spike Lee in Brooklyn, we both said to each other, God we gotta run this. We're gonna do it next year. We gotta do it next year. And then three weeks later, we'd say, Ok no we're not doing it next year.

L: Yeah. And we were always trying to get as large a group to run it as possible. We wanted to try and have one big group where everyone was running together. But once Tim was like, Hey I'm really thinking of doing this next year, I was like, Oh ok, yeah I've been kind of running a bit. I wasn't in really great shape, but I thought I could string it together enough to run it sort of well. And so we shared it with other people, and then nobody else ended up entering the lottery besides us.

T: Leighton got into the lottery. I didn't. But then I was like, Oh shit Leighton got in. Now we're actually committed.

L: Yeah it's the only lottery I've ever won.

Tim: And that was also around the time that I was latching onto runs with other people, to help them out with workouts, but secretly stealing a little bit of fitness for myself. This was also right around when stuff happened with our friend's brother, Paddy, so I decided I wanted to run the race for mental health and for Paddy. So I emailed NAMI and found out that one of their runners had gotten a stress fracture so their spot opened up, and then I hit the fundraising hard.

L: yeah and the whole time you were still just training as if you were running the marathon. even though you weren't guaranteed a spot yet. but you still were just doing all the long runs and the workouts as if you were already registered. which I remember really admiring.
T: I remember in September when the weather finally dropped – all of the sudden feeling good and in shape and doing a few key long runs around then. It seems crazy that we met at 6:15 or earlier in the morning all the time, now after COVID. I don't know how we did that.
L: I don't know how we did it either. Because I'm just so tired all the time. I hadn't done something where I trained for that long to cap it off with just one event since college, and at this point it had been five or six years since college. I hadn't had to deal with that kind of race-day stress in five or six years. I was really nervous.

T: I'd never been in a race that had so much fanfare around it. Just so many people. So many moments – where the gates open, and then we do this weird walk-huddle, and then someone's giving a speech and we can't hear what they're saying, and then finally the gun fired and we took off.

L: Yeah we were three rows back from the start line. Someone famous sang the national anthem on a double decker bus. And there was also a Yankee player there, just waving to the crowd. Then they started playing that "New York, New York" song. And suddenly people were sprinting so hard.

T: People were going nuts.

L: People were pushing really aggressively. And we were on the upper level of the bridge. And the railing is NOT HIGH, so I was just yelling, Hey everyone calm down, it's a long race. I was yelling to try and make the people stop pushing.

T: The experience lived up to what everyone said. Probably a little bit more fun, even. I remember crossing the line and taking a step and my legs just shuddered. And then I had to walk all the way up to get to the exit. But, we both pretty immediately decided we wanted to do all the major marathons in the world. And Chicago was the next most logical one. We started talking about Chicago a week after the New York City Marathon.

L: We knew that we'd qualified. And that it was an easy one to get to.

T: Yeah we'd done the fun one. We wanted to do a fast one.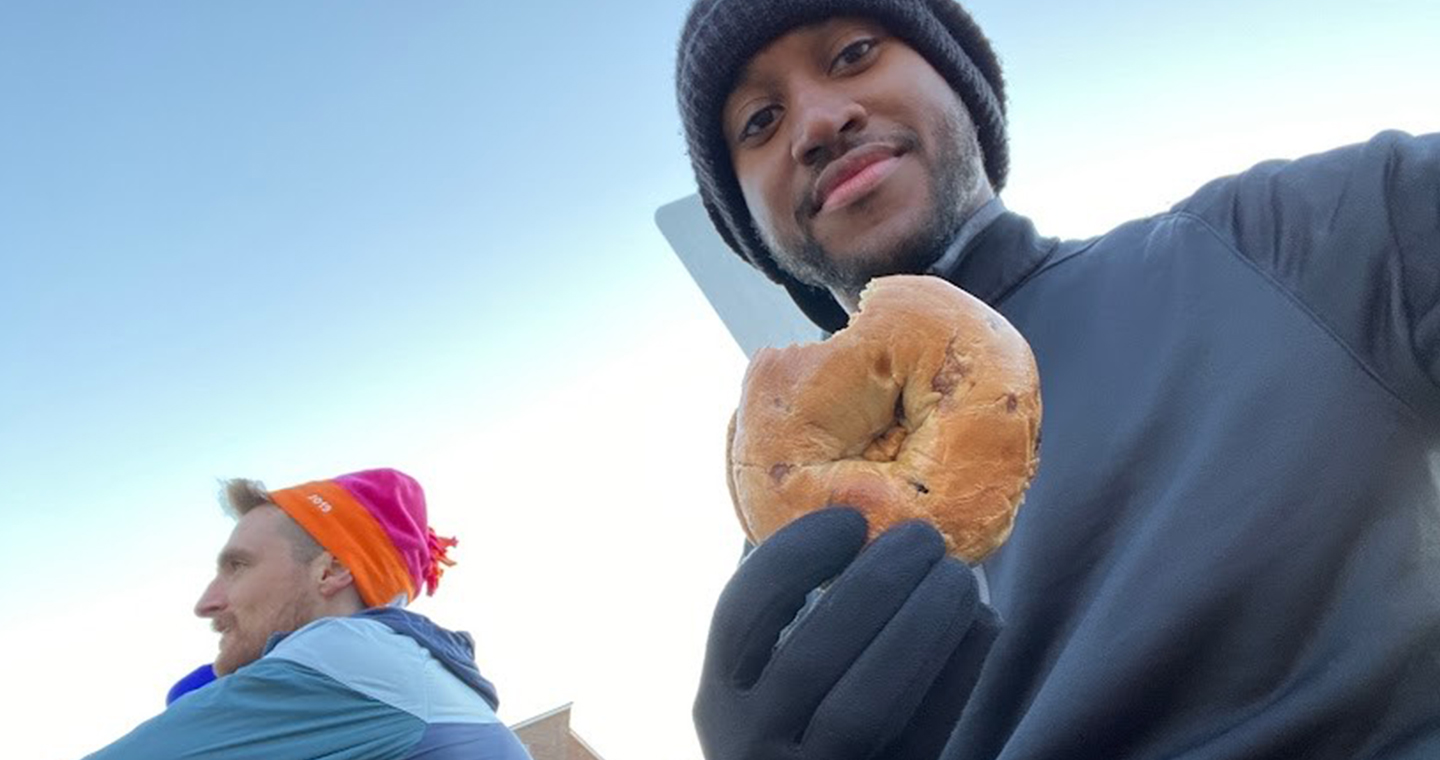 L: It was a no-brainer to sign up.

T: At that time it just made sense. I was working out again.

L: Same here. I had taken a couple of weeks off. But my mileage stayed fairly consistent into 2020. I was in maintenance mode, and thought that when I started actually training again, I was just going to be fitter than I was last time around.

T: I was feeling like I was in the midst of my second life as a runner. I was fully in it. I signed up for the New York Half, I signed up for the Brooklyn Half. But then I heard that Hong Kong was out of toilet paper. I thought it was going to be like that in New York soon. So I figured there was no way the New York Half was going to happen. And I stopped running. Maybe I sort of used it as an excuse to take a break because I was getting a little tired. And that winter sucked.

L: I had completely stopped running. I would just jump rope on the roof while my girlfriend was walking in circles around a very small rooftop. I think the biggest, scariest piece of it all is that I had no idea how COVID was spread at that point. I didn't run from the end of February until the end of May. I didn't run at all.

T: We were texting each other saying, Wait, they haven't canceled it yet. I haven't run in a month. I'm very out of shape. In hindsight, it's clear that running was safe. I could've even run with people probably. But we just had no idea.

L: We started running again somewhat, just to you know, keep the lights on. But, this round of training has been significantly harder. I would say I don't enjoy it. I don't enjoy running right now. It's not a terrible thing. But what I've realized is that the only reason I ever got into running was the social aspect to it. Every single run I did – I was always there to talk to someone, tell jokes, have a good time.
t: this build up has been more of a grind. and a big part of why it's been more of a grind is that I haven't been able to do that thing where I just help somebody else train and steal their workouts. I've actually had to think about my own training.
L: For me this buildup has been tricky. It's just been those middle of the week regular runs where I'm so unmotivated. And that's made me think about what it is I want out of this race, too. Now my goal is to just go out and enjoy it. My stretch goal is to PR but if I don't, I'll be fine. And I don't know what my plan after Chicago is. I know Tim, you don't want this to be your last marathon. But, I don't know. I don't know if this will be my last marathon or not.

T: I think I'm almost re-assessing what I'm getting out of Chicago this time around. It's been good to have something to train for. Marathons have been a way to make running fun again, and I want to hold onto that and not lose sight of that. I think I will get something out of it. I don't know what exactly it will be.

L: Being in quarantine robbed me of getting to see people and once we were able to be more social again, I'm not willing to sacrifice seeing people or having one or two more drinks or staying out late. I don't want to sacrifice those things just in order to be better at running.

T: COVID broke my momentum. I had to restart training from scratch. But then, it also reminded me and re-emphasized to me, that the most important parts of running aren't getting fit and running a really fast race, the most important parts are getting to do something outside with my friends. Who knows, maybe even without COVID, the training would've been really hard and we'd be in the same place.

L: Yeah I'm leaving this door cracked. I'm not sure if it's my last marathon or not. I think I just need to forget for a little.

T: I think it might be harder to push myself this time, but I'm focusing in on this question of:
how can I come away feeling like I did do something extraordinary. in the true sense of the word. not like entirely incredible, but like above normal, above ordinary – for myself.