in search of a colder guinness
The country of Iceland is one of sombre palettes and vivid highlights. A land infamously shaped by fire and ice—a trope every travel writer in history has leaned on since the advent of tourism. This island nation features tumultuous volcanoes and monstrous glaciers. Geysers spit hot water into the air until it vaporizes, and lava fields pour red-hot molten rock across the landscape. It is an island of contrast…another familiar theme for journalists. When New York City-based endurance runners Elliot Berenger and Luke Forelle looked for a place where they could do something both beautiful and extreme, they chose this hunk of volcanic rock in the middle of the North Atlantic.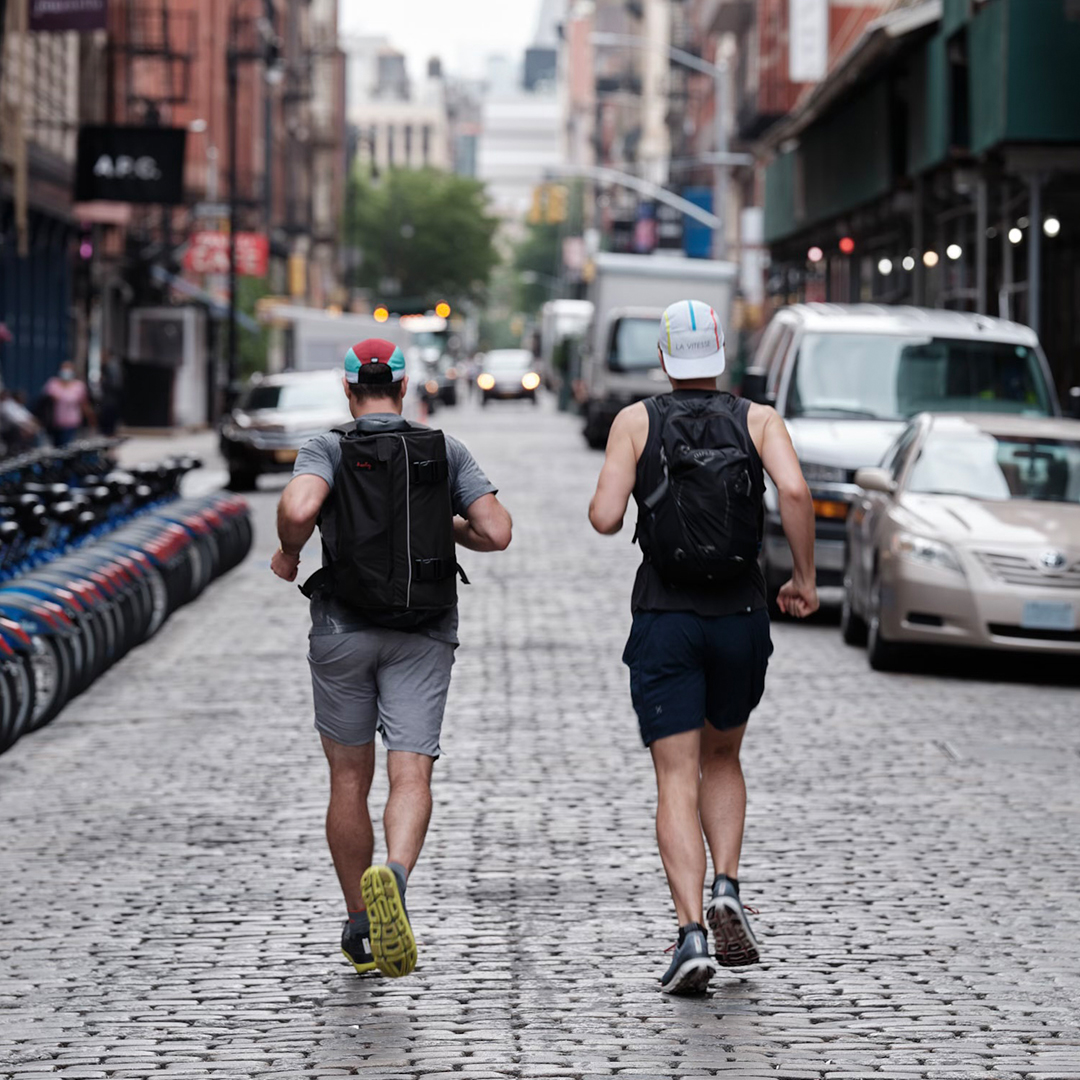 What Berenger and Forelle intended to do was indeed formidable; break the world record for traversing Iceland by foot. They intended to "run, walk, or crawl", approximately 800 kilometres (500 miles) from the north edge just shy of the Arctic Circle, to the south, which still may as well be skirting the Arctic Circle. From Hraunhafnartangi—the northernmost lighthouse in Iceland—to the southern shores near Katla volcano, all in less than 253 hours and 14 minutes. They've been building towards this for a long time.

Elliot Berenger was born and raised at the foot of the Canadian Rockies, near Calgary, Alberta. He's travelled the world, lived in London, UK, but eventually landed in NYC where he gained a master's in real estate development at Columbia University and met Luke, a born-and-raised New Yorker who spent time in the Marine Corps as an Infantry Officer. He too traveled extensively—as Marines do—from Southeast Asia to Afghanistan. Neither are professional athletes, but both chase goals with determination and unfettered enthusiasm you can hear in their voices. The fact they found each other makes sense when you listen to them talk about running.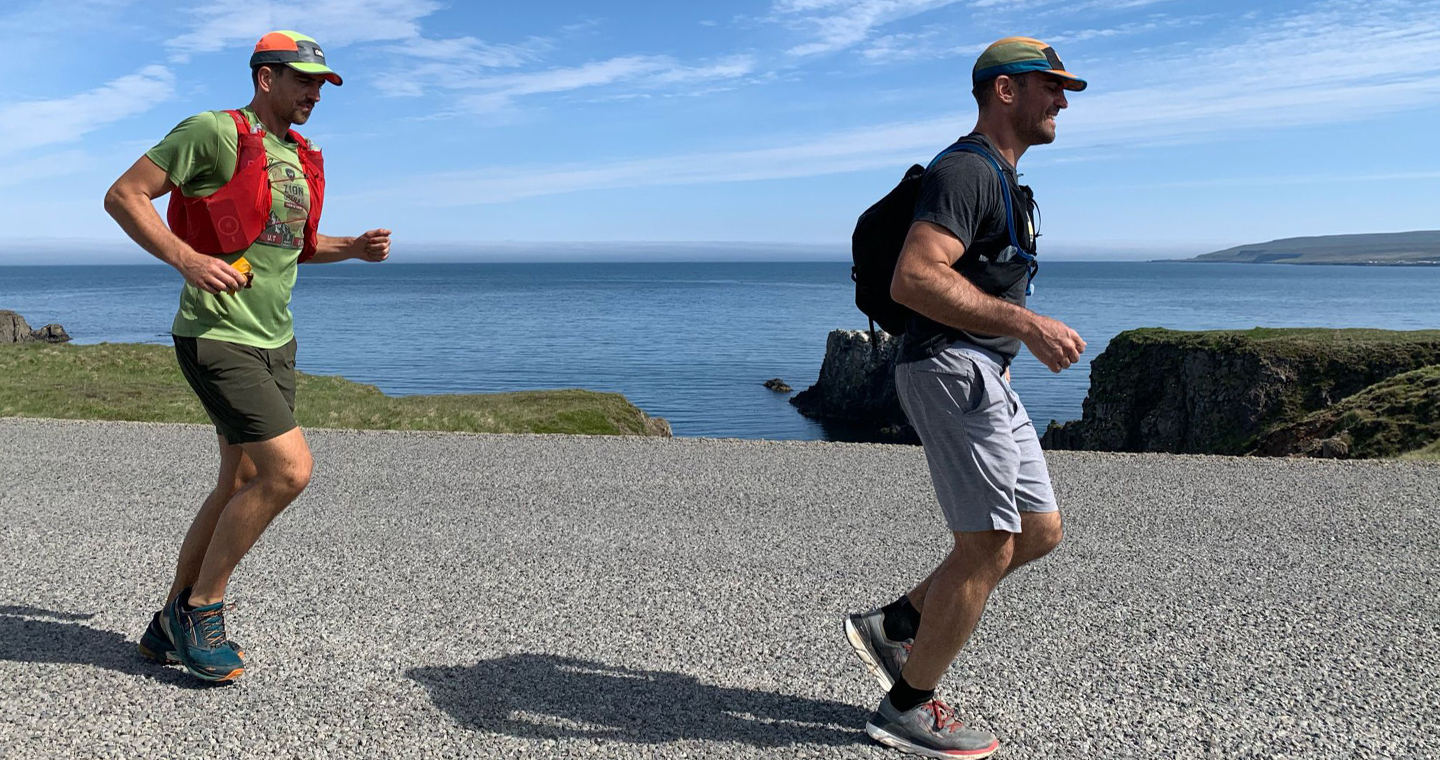 When Forelle quit the Corps in 2015, Forelle completed a 965-kilometre (600-mile) foot traverse of Java Island in Indonesia. Thinking it would be his "last epic journey before settling into a more sedentary lifestyle," he instead crossed paths with Berenger.

"Luke wasn't really a runner," says Berenger, from his office in NYC. "I ended up meeting him through school. He was the only person that I convinced to do a hundred miles. He's like, 'yeah, I'll do that." The duo tested each other on the Zion Ultra in Utah. "That was our first big race." Says Forelle. "I'd only ever done marathon, and not even a scheduled race. I just kind of ran it on a weekend." The 100 miles went well, and both runners decided to try something bigger together. They set their sights on the Moab 240 but were already focused on doing it their way.

"We said 'let's see if we can organize one ourselves." Says Berenger. "Something a little bit different: plan everything and different stops." After Moab, the duo had become bona fide adventure partners. They began planning their next "vacation."

"So, we're looking at different places to run while also fitting in our vacation schedule because I only have three weeks off." Says Berenger. "Iceland came up…then we saw this guy had a world record." The decision was solidified. They would run from north to south along the eastern edge of the nation, up against the cold of the northern Atlantic. The same route tackled by the former record holder, and one that would see them traverse every kind of landscape and ocean view Iceland had to offer.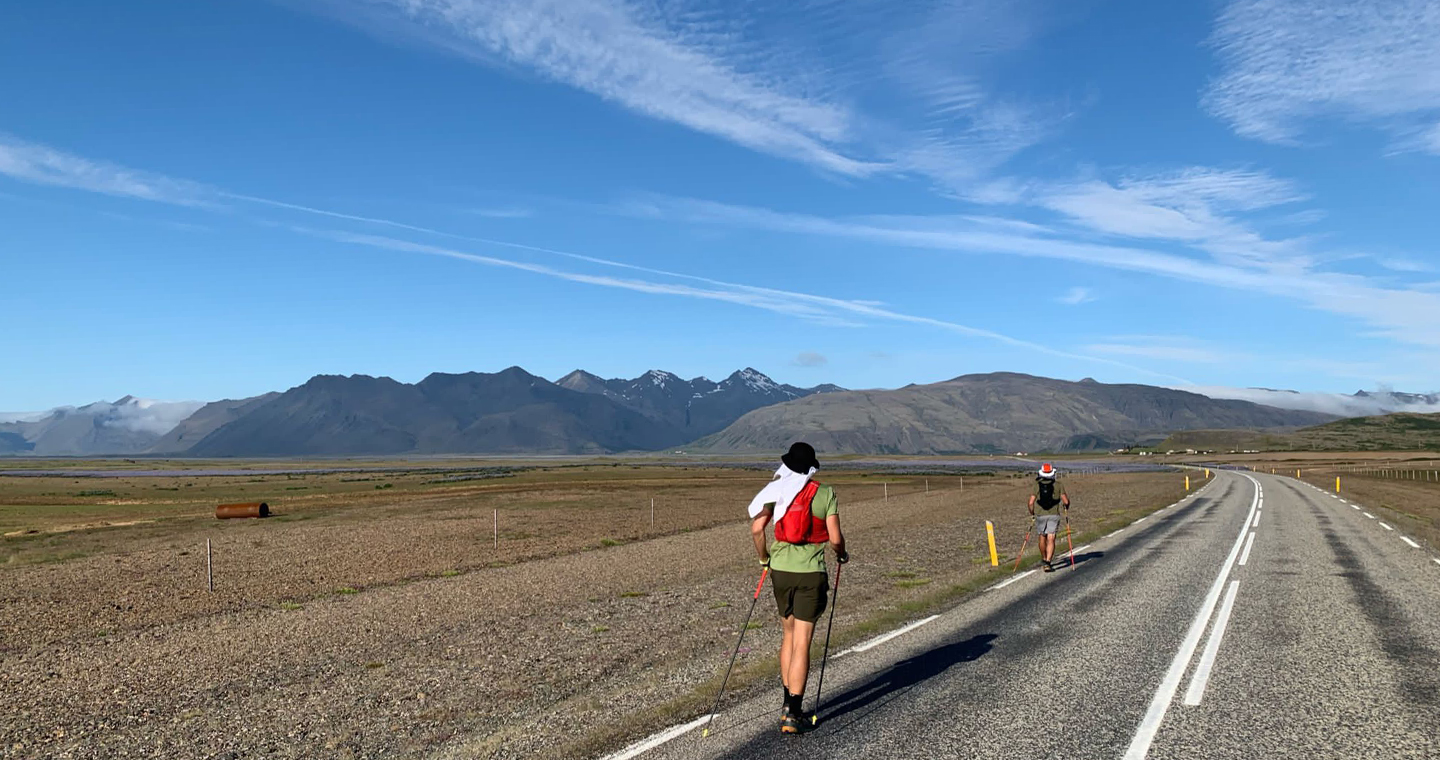 "There's a quicker route where you can go through the centre of Iceland, where you would shave off like a hundred kilometers," says Forelle. "But it's depending on how the weather is, and there could be some pretty significant river crossings."

They began July 5th, 2021, with a support campervan loaded with fruit, footwear, and fuel, and driven by two of Luke's friends from the Marines. With a rough goal of 100 kilometres (60 miles) a day, the run started easy enough.

"I thought we had it in the bag from like 30 minutes in." says Berenger. "And then we woke up on the second day we were pretty wrecked." Once they found their rhythm, though, the landscape came into focus, and the beauty powered them forward.
"It was more remote than I thought." says Forelle. "I wasn't considering the scenery. I didn't want to build it up in my head, but I was pleasantly surprised. It was so beautiful, and then we crossed over volcanic mountain ranges, where it became even more lush."

For six days they moved through the landscapes that have made Iceland a global greatest hits contender for the record of most alluring travel destination. Rich in the culture of historic fishing villages, eastern Iceland is less visited and more out there than the rest of the country. Waterfalls roar from mountains both colourfully diverse and black as the darkness that envelops them when the sun disappears each winter. Volcanoes stand sentry over the deep blue menace of the often tumultuous North Atlantic. This is a coastline familiar with struggle between land and sea.

Despite starting strong, Berenger and Forelle would eventually find their own struggle catching up to the beauty. Six days in and the duo ran into an unpredictable problem; the sideways incline of the remote roadway—made to let Iceland's frequent rainwater drain off—was putting undue stress on the uphill leg.
"I could barely run, and it just got progressively worse."
"I was pretty scared that I wasn't able to finish, but then we kind of powered through and took a longer rest that day. It was the low point for me." Says Berenger. Faced with the possibility of a mission-killing injury, they pivoted to a slower pace. But not without argument.
"Well, we always have a disagreement about pacing." Says Forelle. "I thought we were going too fast. Honestly, I didn't know how our friendship would look like coming out of it, and so that was like, pretty difficult."

Anyone who has endured the obstacles and emotional rollercoaster of tackling a big objective knows how it can impact relationships. Fortunately for Forelle and Berenger, the tete-a-tete was temporary.

"We kind of established a new regimen with some walking. I felt like 'Okay, we're gonna finish this for sure." Says Forelle. "It's just a matter of how long it's going to take; it was quite a grind." They soldiered on 16 hours a day, with rest stops plus a one-hour lunch break. "All day and then sleeping four, five, maybe six hours." Says Berenger. "And then back up…over and over, and over again."

With the proper flow achieved, the friendship returned.

"I think there's a more of a bond coming out of this trip, for sure." Says Berenger. "[the argument] was, like, this stupid thing. You know, like how are we going to a deal with each other for another week? Turns out, we did just fine."
"I think we both kind of had a come-to-jesus moment where you're just running, and then got overwhelmed with euphoria."
Says Berenger. Forelle agreed. "It lasts for, like, 30 seconds to a minute, and then back to it. It might take 400 kilometers to get there but it's a big moment. And it's more than worth the effort."
In the end, the two Good Times guys broke the record, traversing 750 kilometres in nine days and seven hours. "We got the champagne shower." Says Forelle. "That was pretty fun." A representative for Guinness was there to document the world record, and a smattering of tourists who happened upon the finish.
"It was amazing, the finish. Honestly, it was such a cool experience." Says Berenger. "When I was emailing people for sponsorships, I was like 'it's going to be an amazing journey.' But then it was. It really was." He laughs. "Finally getting there and being able to relax…it blew my expectations away."
They slept off the run for a couple days and then celebrated for two nights in the capital of Reykjavík before flying home to New York City. When asked what is next, they both admit to taking a few months off before tackling the next mission, one they don't quite want to share just yet. But they can admit one thing. "We're pretty decent at really long distances." Says Berenger. "So, I think whatever the next thing is, it'll be another absurdly long distance."
—
the full team on this record chasing run was:
runners:
elliot berenger
and
luke forelle
crew:
jeff karb
and aaron lammi