this is the story of 4 strangers who came together for a unique adventure beginning as strangers and finishing as friends. an adventure that we will remember for the rest of our lives!
It all started after a 20 km trail run at Mont Saint Hilaire. It was the first time that the four of us ran all together. After an epic day on the trails we all went to have a beer in a pub, in front of Mont St Hilaire. From there we realized that we had a lot in common, but above all the frustration of not being able to race because of the pandemic was heavy. Although I did not have much trail experience I told everyone that my dream would be to go for a run in the mountains, to camp in the middle of nature under the stars. Surprisingly they all told me they were also dreaming of one day doing the same thing. So it was decided, we set a date then and there. We would leave in 1 month!

I was already very impressed with Jamie, Michael and Julien who already have experience with long distances. I was not ready for an ultra trail run but to be honest, we would soon realize that none of us were ready for a fast pack adventure! Fastpacking is a very different discipline from regular trial running. You must carry all your camping equipment and all of your food on your back. It is not a very common discipline in Quebec so we could not find much feedback on the subject, or maps and routes. Moreover it requires a lot of physical preparation, equipment and food, because we were leaving in total self-sufficiency. Do not think, like Julien, that nature will provide you with everything you need :). The only thing nature gives you, is the water of rivers or lakes, which you make drinkable with a water filter or pills.

Finally, after a lot of research (thanks to our cartographer Jamie), we decided to conquer the trails of the Harricana Ultra-Trail 125 KM and complete it in 3 days, with a vertical gain of 4220 m D +. The departure date was set for August 19 and we would finish on August 21, 2020. The Harricana Trail in Charlevoix is known for wolves and we looked at each other like a pack, so we called our adventure: "Harricana Trail Wolves Pack Adventure" – # HTWPA2020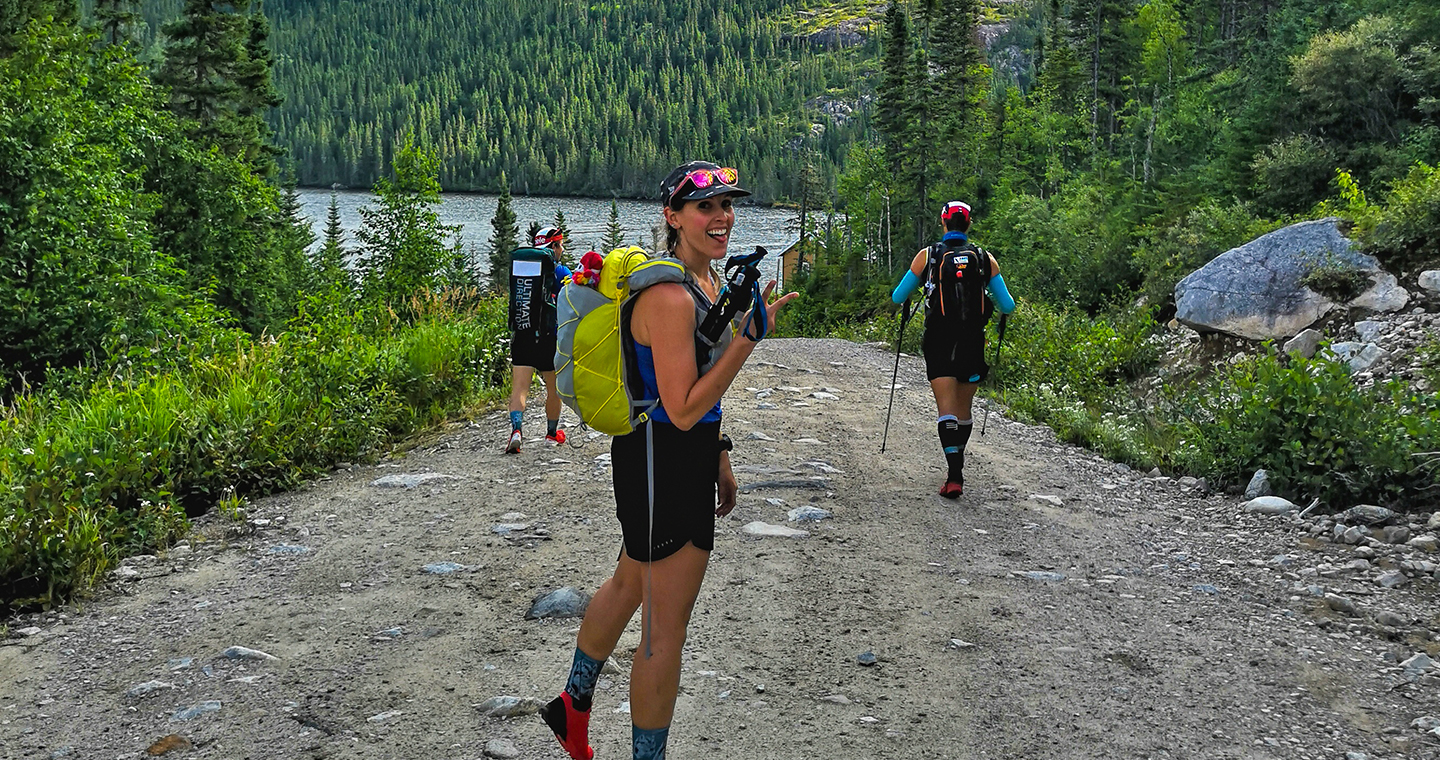 A few words about the Wolf Pack:

Jamie and Michael are a couple and they always run together. They have already completed many ultra trail races such as the Squamish 50, Gaspesia 100, Haliburton Forest Trail Race and the Ultra Trail du Bout du Monde race. They are great running enthusiasts! Jamie took the lead as our "cartographer", a very important responsibility, because the Harricana 125km trail is marked for the official race, but for the rest of the year it is left unmarked.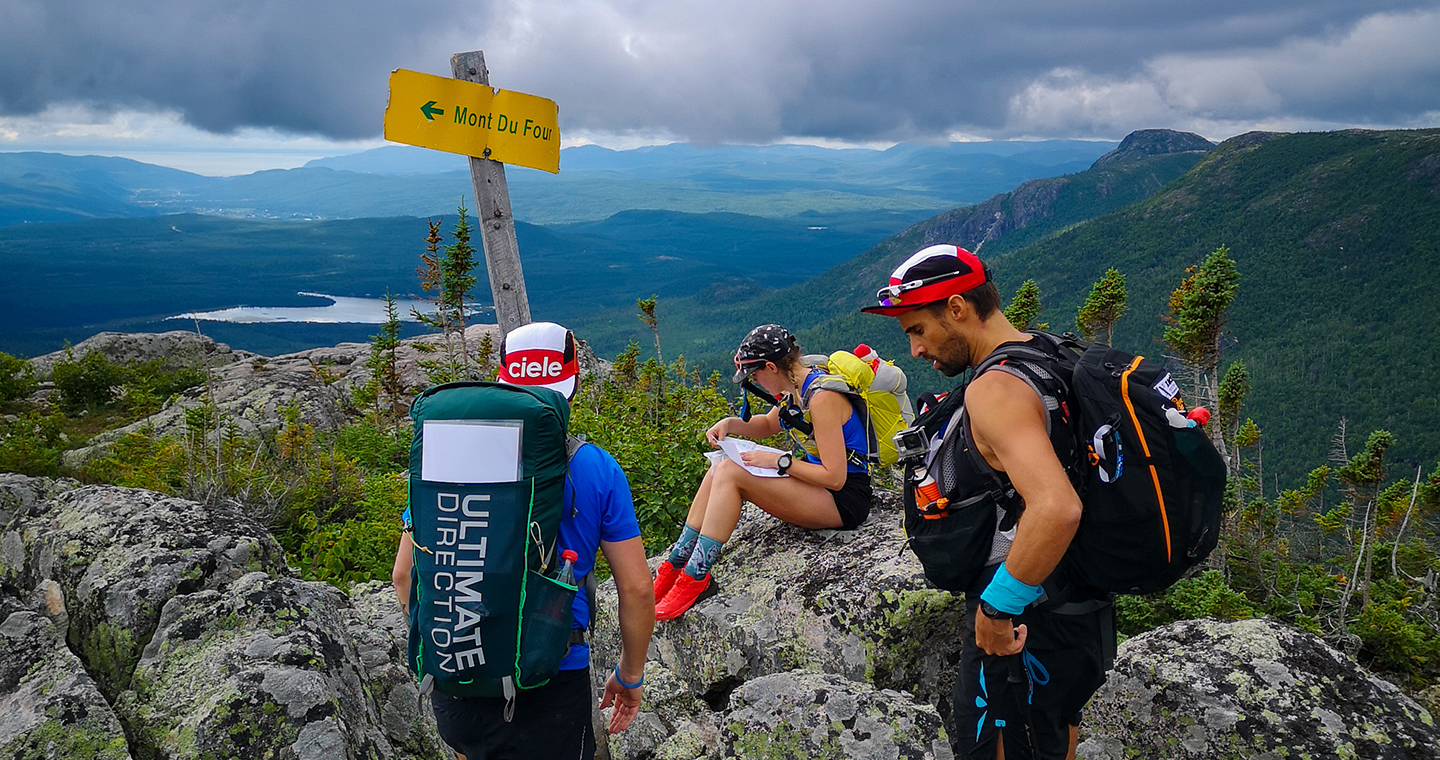 Julien is the father of 2 daughters and is an ultra runner extraordinaire! He completed the 128 km of the TransGranCanaria in 24h (without sleeping) and other races such as SantéLyon, 69 km from the Trail du Grand Duc, 40 km MEC in Mont Tremblant… In other words, he's a machine.

I am James, a marathon runner used to asphalt but since I arrived in Montreal from France, I started trail running. I was still stressed to know that we should run all day for 3 days, from morning to evening. The longest I ran was 3:50 (my first marathon) so the idea of running for more than that seemed very overwhelming to me. But I had the experience of my 3 wolves to guide me on this adventure.

Preparation:

A week before departure, we tested all our equipment. In order to test our bag, you put it on your back and check its weight. It was the last chance for us to take a look around and see if we were missing anything or if we had any duplicates of anything.

Again, we are a team, a 'pack of wolves', so we tried to distribute the weight and share the equipment, for example we had a tent for two, a stove and 2 water filters for 4… During this preparatory outing, we quickly realized the importance of the bag's weight which would be worn for 3 days.

Weight distribution per person:
– Jamie's bag = 5 kilograms (11 pounds)
– Michael's bag = 8.5 kilograms (19 pounds)
– Julien's bag = 7 kilograms (15 pounds)
– James bag = 7.5 kilograms (15 pounds)

NOTE: For the material, you will find a list to prepare your next fastpack, at the end of the article. (this is specific to our adventure and our needs).

As an extra challenge, I decided to collect all the waste that we found on the trails and carry them with us until the finish. This movement is called 'plogging' and consists of making runners / walkers aware of the waste thrown into nature. Knowing that during all races and even hikes, it is essential not to leave any trace in order to preserve the nature and environment of animals.

We camped at the base of the ski hill in the parking lot and after our first night in the rain, waking up at 5:30 am was difficult for everyone. We felt the excitement but also the dread. Arriving at Zec des Martres, where we would leave the car, everyone was excited to finally be running. Just 1 km from the start, Julien's calf begins to feel sensitive. He had been dealing with an injury for a while but was hopeful it would not be an issue. He began asking himself seriously if he had to give up on this adventure. A big cloud came over the group and everyone began questioning because there was 124 km left! "Will he get there?" "This is a 4-person project, he may have to stop," "How are we going to do it? How do we distribute the weight and materials that Julien is wearing?" All of our bags were full but we needed all the equipment. Then Michael remembered that the first 15 kilometers was a loop! The plan was to all run together at Julien's rhythm and if he was still in pain at the end of the loop, he would go back to the car and the three of us would continue. After the 15km loop there would be no other way for anyone to drop out. There is no reception up there and we are completely cut off from the outside world and left on our own.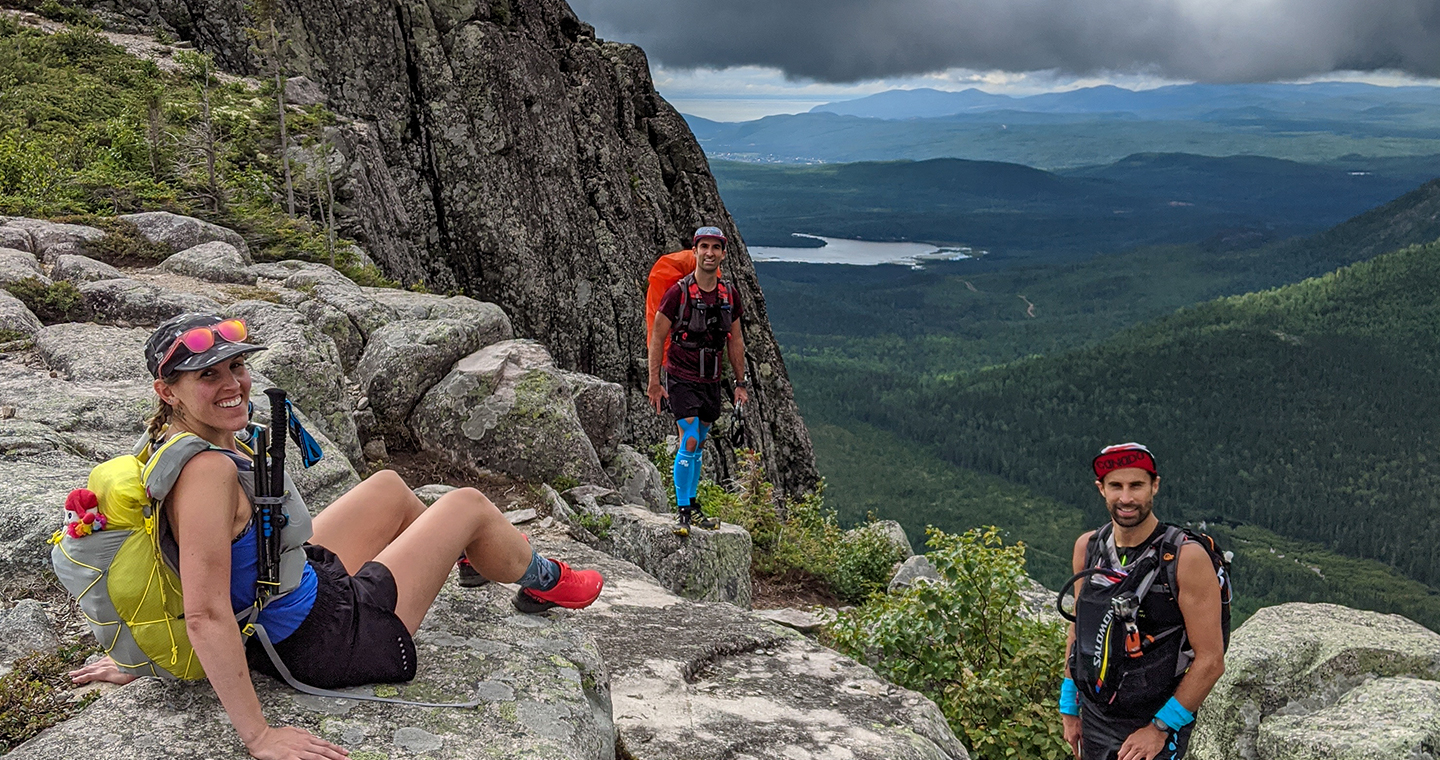 Once we reached our first summit of the day, Mont du Lac à l'Evêque and Mont Du Four, the views were breathtaking. We realized where we were and how lucky we are to have this experience. The scenery is truly amazing, but the clock was ticking!
After the 15km loop we came to a crossroads and had to make a decision, does Julien continue? He said that the pain had not been reduced but if we continued at the same pace he felt he would be OK. So it was set, we would all continue at a slower pace but as a pack. This caused some stress for our cartographer, Jamie, as this meant we would have to recalculate our camping sites and how much we could actually accomplish in a day. We would discover the impact of this dilemma on our second day.

Everything was going great, we were finding our rhythm, the weather was great and we were making progress, but we were not ready for what was waiting for us at kilometer 28 on top of the famous Mount Morios! The highest climb of our adventure, at 900m altitude over 5KM, was very steep. This climb proved to be the most difficult for all of us and it did not help that we all had our backpacks weighing us down. Unfortunately, Michael had one big drawback on the climb. Lack of food caused him a power outage. He continued to move forward but did not realize what we were going through. Until I gave him a bar that was high in fat and carbohydrates, which fortunately woke him up because the descent that came after is very technical with many ropes. Really do be careful to eat well during such an experience, the body is very stressed and needs a lot of nutrients. For us, it's a sugar bar every hour.

The views at the top were amazing and worth the climb. Campers were at the summit and preparing their fires as the sun was setting. It was tempting to want to stay and camp at the top however we had to make it to Station Marmotte that night if we wanted to complete the distance in three days. We already had to adjust our mileage that day and we could not afford to lose anymore kilometers.

The sun was setting fast and we made our descent. It was very technical and steep. Our quads were screaming, feet were tired, we were hungry and we just wanted to get to camp! We arrived at Station Marmotte at dusk. Many campers were already relaxing around campfires, enjoying a beer or curled up in their tents. Finally day one was over with a total of 38 km in 10 hours. It was not the 52 km that Jamie had planned out for us but it would have to do. We underestimated the time it would take us to run with an extra 20 pounds on our back, plus with Julien's injury we adjusted our pace a lot. This is what it is all about though; improvise, adapt and overcome!

At Station Marmotte we found a cozy place to set up our tents, rinsed off in the lake and started a fire. We ate our dehydrated meals, which were delicious, and we reminisced about the day's adventures while we stayed warm by the fire. The adventure had just begun!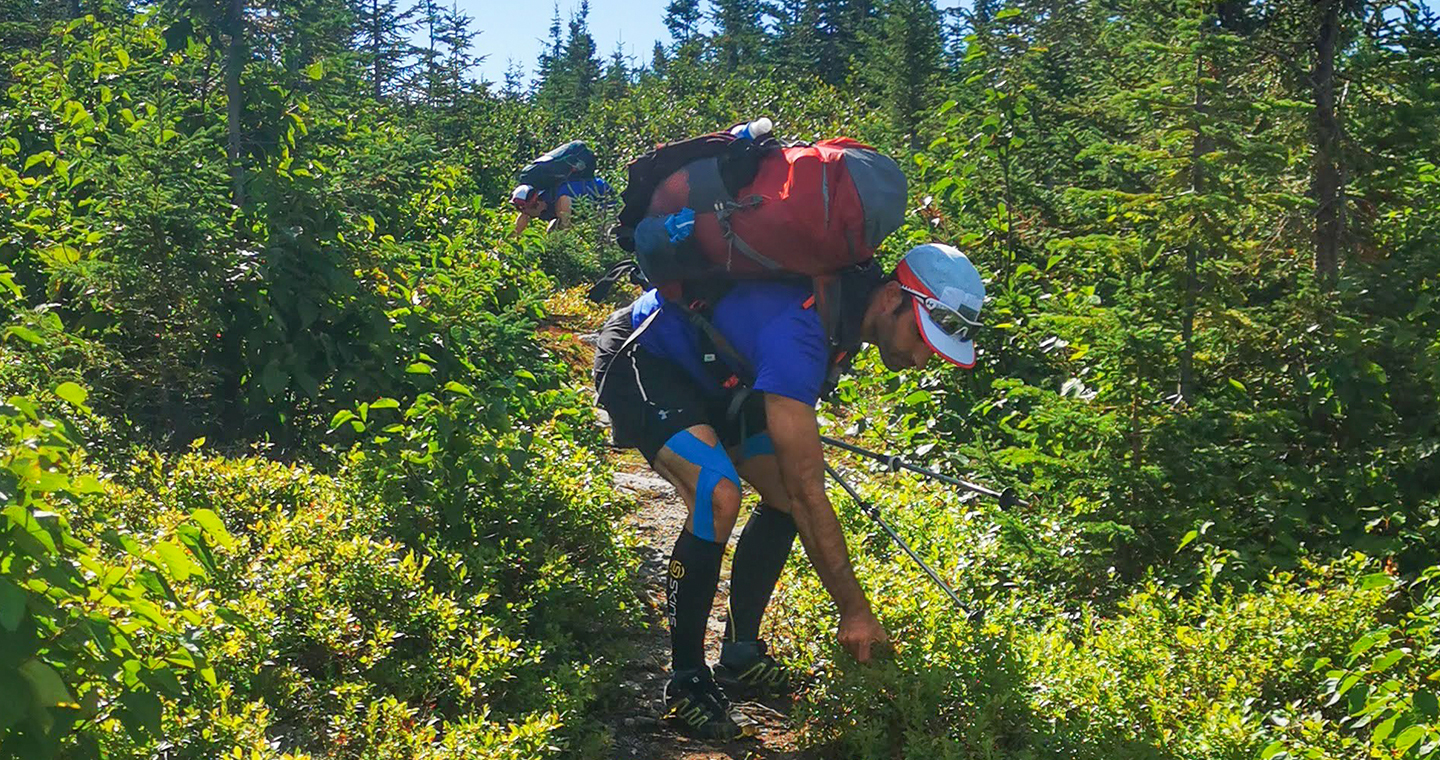 After a very short and cold night, 6 degrees, we got up surprisingly feeling great! We were not too sore and everyone's spirits were high. After adjusting our numbers from the previous day Jamie had it figured out that we would do 41 km that day with a plan to stop and camp beside a lake that night. We arrived at the first summit, Mont des Marmottes, which culminates at 800m altitude and offers us a magnificent
viewpoint onto the Fleuve Saint Laurent. We were also treated to wild blueberries! Jamie and Julien had to keep stopping and waiting for Michael and I as we slowly made our way down the path eating as many blueberries as we could.

After 22 km we stopped for lunch and plunged our legs into the lake. We stopped for about an hour, resting and enjoying the sun but we could not stay there forever so we continued on our way again. We were headed in the direction of SEPAQ!

As we ran through the SEPAQ entrance we realized that there was a store we could buy chips and pop from! We were so excited as we sat and ate our chips, as if we had not seen civilization for weeks. It was the best bag of chips we had ever had! It was now getting close to 2pm and we were all anxious to get to camp. We continued on a long flat road for 5km exposed to the full sun before we reached the forest and began our climb up to our planned campsite for the night.

As the sun began to set it seemed like a never ending trail. Kilometer after kilometer, step after step, we were all waiting for some sign that camp was near. We passed 41km, our planned distance for that day but the map still showed 5km left, something was wrong. At 46km everyone stopped and congratulated me because it was the first time I had ever completed an ultra distance. I knew I should have been excited but I had no energy to celebrate.

Finally we arrived at the lake but there was no place to camp! The trees surrounding the lake were so dense there was no access to the water and nowhere to set up our tents. We look at the map and see that 5km further there was another lake. We continued on, hopeful that there will be access to the lake and a small space for us to set up our tents. The sun was setting fast, there was no time to waste.

We arrive at 50 KM as the night falls and we realize at the second lake that it's the same situation. Our spirits are deflated, everyone is frustrated. It is getting dark and we are in bear territory. We have a quick team meeting. Mike wants to just camp right there on the trail, Jamie and Julien want to continue on to Station Coyote, 6km further but we know for sure there is a camping spot and water. Me, I don't care, I am so exhausted I can barely think. We all put our headlamps on and continue into the night.

We instantly fall into very thick woods where the path is flooded with mud right up to our knees. Tensions are high as we continue into the dark. In the hope of alleviating the mood, Jamie encourages us with questions and lively discussions. Unfortunately, neither of us was in the mood to speak. We were all in our own world, just wanting to eat and sleep.

About an hour and a half later we finally arrived at Station Coyote around 10:00pm! We were all so relieved. It was dark and we did not want to disturb the other campers that were there so we set up our tents as best we could in the dark. We were freezing so we all huddled around the fire and cooked dinner. All exhausted but so happy to finally be at camp. Jamie surprised us with dessert, cheesecake and chocolate (dehydrated of course but so good). It was the best thing that we had been eating since the start of the adventure! Around midnight we all crawled into our tents and instantly fell asleep.

Here we are at 54 KM on this second day, added to the 38 KM of the day before. A total of 92 KM over two days. Big lesson today, it is important to choose the right spots for camping: accessible, near water to wash, drink, cook and able to leave the next day with plenty of water.

We woke up on the third day, now the legs are heavy and shoulders sore but we have coffee. Oh yes coffee! It is the only luxury that we have allowed ourselves to take, a mini espresso machine to give us energy in the morning. We are ready to hit the trail with 33 km to go. The 4 first kilometers are really fun, until we arrive on a long and wide trail 15 kilometers with rocks everywhere. A pain for the feet, which really begin really, literally. Each kilometer gets longer and longer.

FYI, 1 kilometer took us 20-25 minutes, I'll let you do the math for the remaining 33 km. We call this the "sexy pace", which is a slow pace when we need to take a breather. Then when the ground is softer, like in the undergrowth, we let go a little more.

At the end of this interminable road, we finally cross a river to stop for a lunch break. We only had a short distance to the end so we decided to swim in the river and lay in the sun a little bit longer. As we continue on our way we all get excited realizing there were only 5 km to the finish! We started to speed up and smile, everyone at the same pace until the end. Before we know it the famous descent to the Harricana Arch is there. We go through it together, united as a wolf pack. The tears come to our eyes as we realize what we have done and the unique strength of this experience lived together 24 hours a day for the last three days. Finally we let go of our bags and with a lot of emotion we start celebrating. The "Harricana Trail Wolf Pack Adventure" will have been one of the most incredible runs we have ever done. The passages from one mountain to another, with unique landscapes and terrains, magnificent in their own way. This is an adventure that will remain in our memories forever.

I am very grateful to Jamie, Michael and Julien for their leadership throughout the adventure. Now we have a better idea of what to expect for our next fastpack adventure. For now though, this is the story of 4 strangers who came together for a unique adventure beginning as strangers and finishing as friends. An adventure that we will remember for the rest of our lives!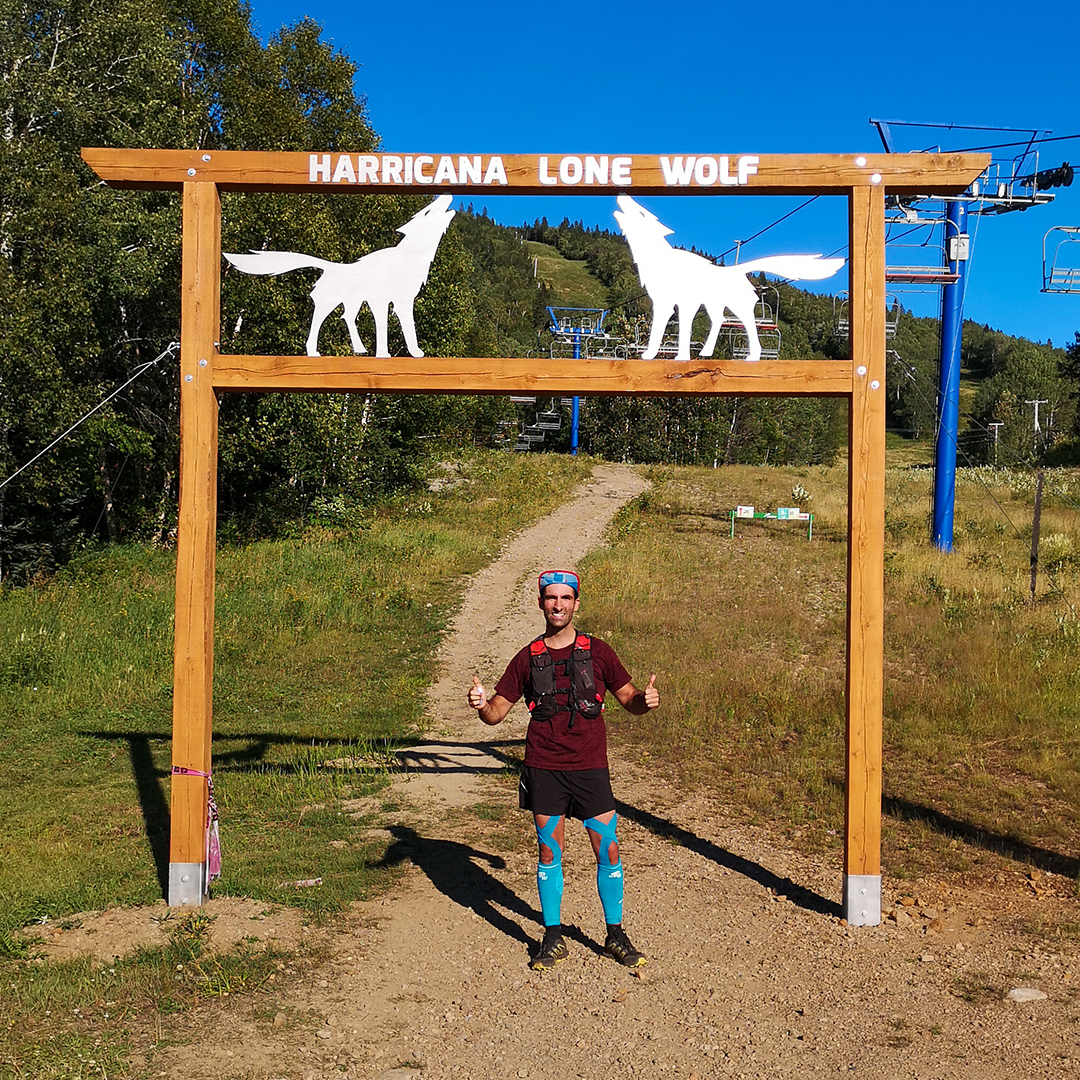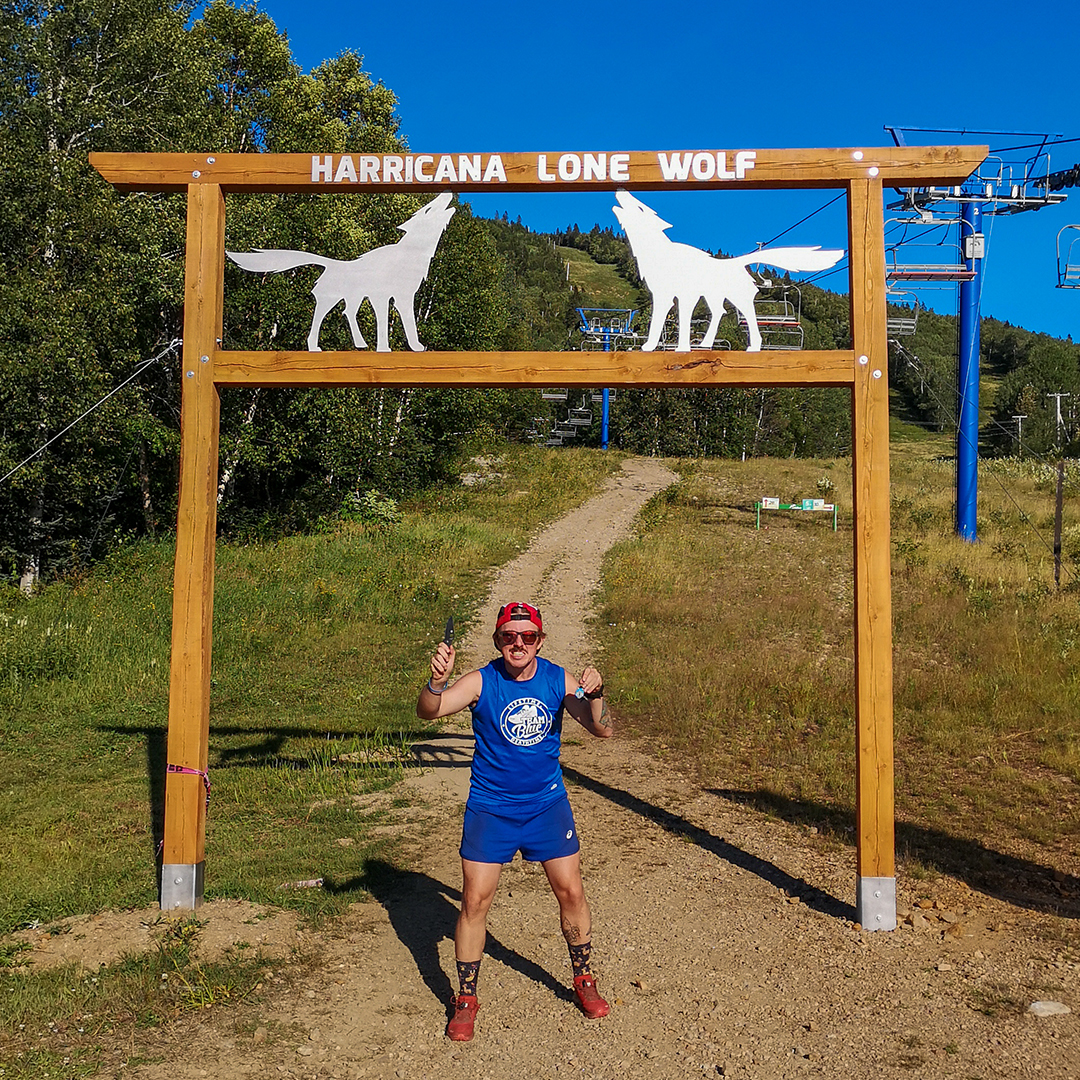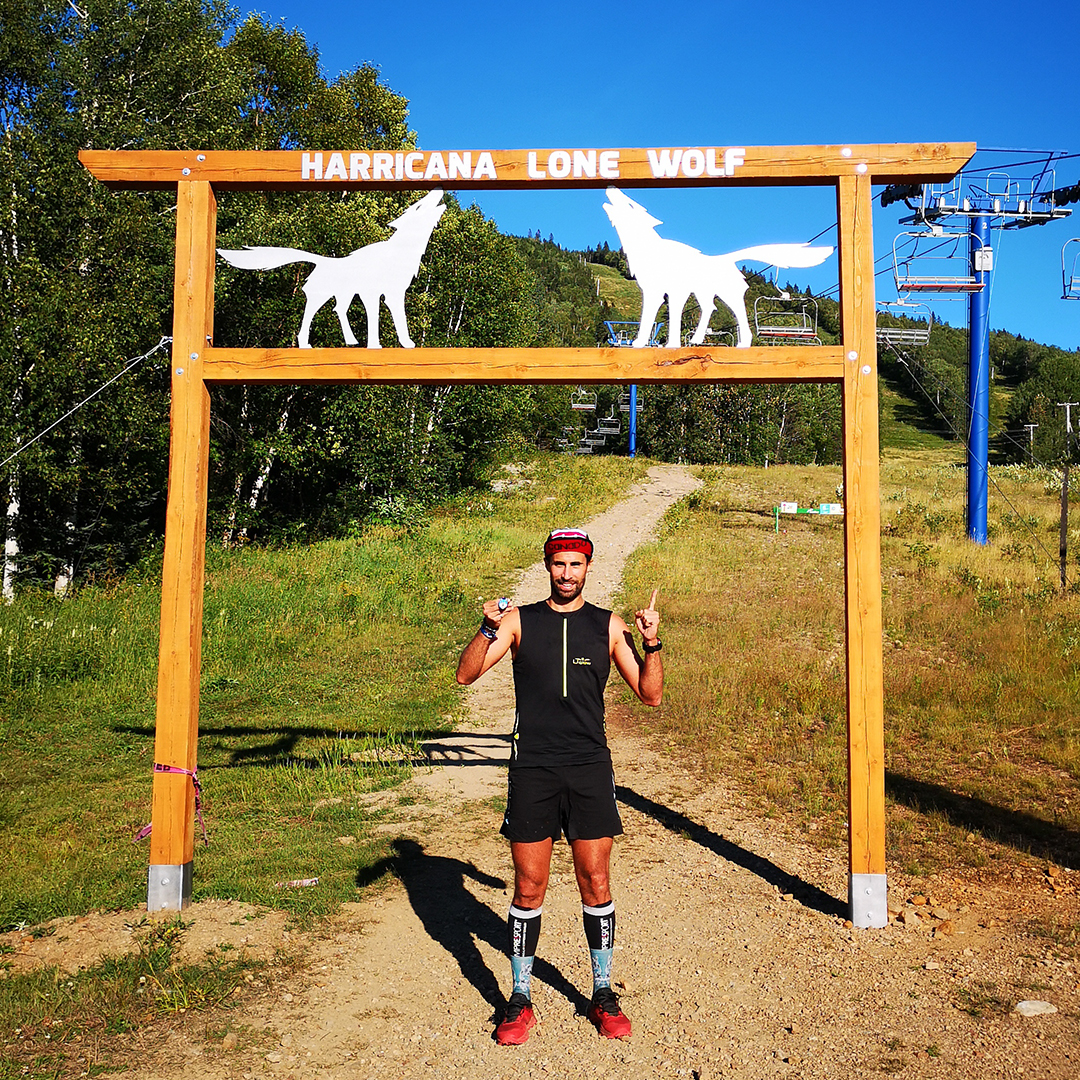 OUR FASTPACK LIST
For the night + camp:
– a tent, for two. (In order to maximize the weight, with Julien, we did not take the tubes (the structure)).
– Rope (to stretch the tent to the trees)
– An ultralight inflatable mattress
– A headlamp (useful when you are still running and night is falling)
– A knife
– A spork or fork-spoon
– Matches for the fire and the stove (the fire takes time and energy to make but it is essential to warm up and dry our things, especially as the temperatures drop very quickly in August in Quebec)
– Soap (important to keep good hygiene)
– A toothbrush (no need to cut it in half 😉)
– Toilet paper
– Garbage bag x 2
– Warm clothes for the night (pants, thick socks, fleece)
– A power bank + cables
– A survival blanket
– Bear spray
– Mini espresso coffee machine

For the race:
– A backpack
– Shorts x1
– T-shirts x2
– Pair of hunters x 3
– Underwear x2
– A watch
– A cap
– Walking sticks
– A DJI camera
– A cell phone
– 3 water bottles, one with a filter
– A survival kit
– Nutritious products (bars, fruit jellies, etc. to be taken every hour) + sodium lozenges
– A bag for waste

Food :
– Dehydrated vacuum-packed food
– 6 meals in all, for the morning and evening