My husband, Marco Anzures, and I co-founded the youth running non-profit organization, 2nd Recess, with one goal in mind—to inspire through action. As professional runners, we saw the need to give back to the community and inspire the next generation to make decisions that can directly impact future health. As rates of childhood obesity continue to rise, 2nd Recess has committed itself to teaching the importance of regular exercise and healthy dietary habits to children and families.

It is the goal of 2nd Recess to have kids come away from the program with a basic understanding of healthy habits and a new sense of curiosity for the sport of running that can last a lifetime. We are fortunate to have an amazing group of coaches and volunteers who make the program a success, spending countless hours planning activities that promote fun and fitness, while also teaching 2nd Recessers the power of patience, positivity, and perseverance.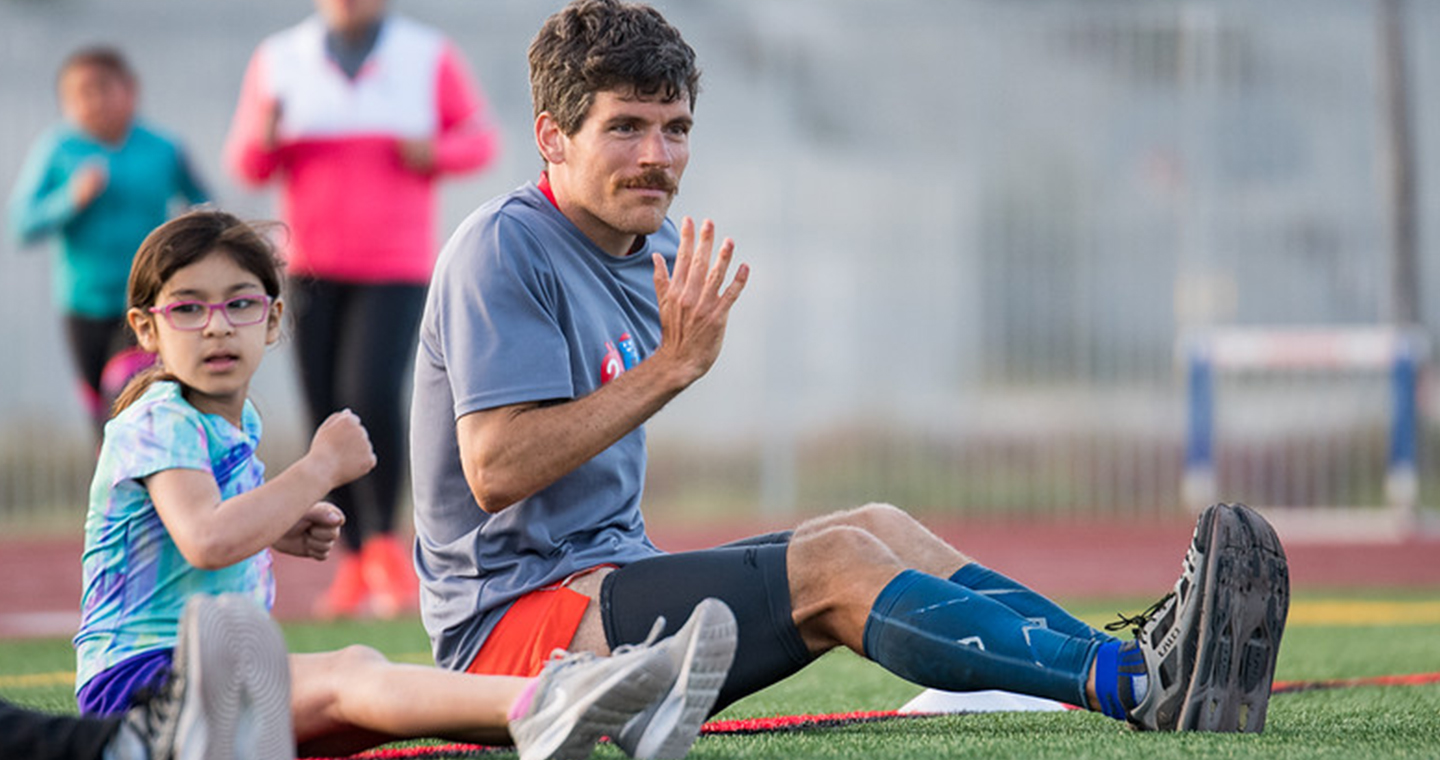 one of these amazing coaches is coach erik weber. coach erik was diagnosed with autism at a young age and has channeled his experiences to not only running, but also with programs like 2nd Recess to better help kids of all ages.
Coach Erik was kind enough to share more about his own experience.

Could you share details about your own autism story?

Coach Erik: When I was three years old, I was diagnosed with Autism. Doctors told my parents I would never be mentally older than eighteen months. I did not talk until age seven. When I was five years old, doctors told my parents to put me in an institution. That turned out to be law school. I graduated from California Western School of Law and passed the California Bar Exam on the first try.

Growing up, I had various challenges in communication, behavior, and learning. When I was mostly nonverbal at age six going into Kindergarten, my mom checked out different Kindergarten classrooms at Rowan Elementary to meet several teachers and get a feel for who she could trust with my education. A bunch of school colleagues kept pointing to a much older and more "experienced" teacher. But my mom saw that this person was very strict and everything had to be done "the teacher's way" by the children. That setting did not allow for creativity or accommodation. It was dull, repetitive, and unimaginative, much like old-school Applied Behavior Analysis (ABA).

Next, my mom checked out a class being led by a new teacher named Ms. Vicky. Although older professionals were skeptical, my mom picked up good vibes from this young and energetic person, and the students were gravitating toward her. So my mom tried me out in Ms. Vicky's class. Pretty soon thereafter, I started flourishing. I got individualized attention that I needed, and developed trust with her and another teacher (Mary Lou Evans) in the classroom. They took the time to understand and acknowledge my needs, helped to form learning strategies that worked for me, and I felt comfortable joining my teachers with all the students in circle-time settings.

When I was fourteen, and my mom was trying to figure out if I was going to college or vocational training, she had me participate in an autism research study as a subject. The researchers studied my brain in an fMRI. They said my brain lit up like a Christmas tree. At that moment, my mom knew more about what she had to work with. I started taking college classes after my sophomore year in high school so I could get introduced to college and have a smoother transition into post-secondary education. In the beginning, I took weight training and ballroom dance classes. The weight training helped me to transform from a puny and slumped-over kid into a walking-tall person who can move a 250-plus-pound offensive tackle out of the way. Ballroom dance was awesome because I could memorize dance routines and apply steps to different songs; the partners would also change after each song, so I learned how to become comfortable with several new people.

Later on in college, in between or after some of my academic classes, I would visit the ballroom dance classes and fill in as a lead; this was great for the teacher because there were usually many more women than men. When the teacher found out I have autism, she was encouraged (and crying) because she found hope for her own kid who has autism. It is a blessing to be a beacon of courage for people with special needs and their families.

Also early on in college, I took a College and Career Success class that was being taught by my academic advisor, who helped me establish a "game plan" for my college education. That game plan was a solid script for what classes I had to take for my major and which units would transfer to Point Loma. One of the best parts about having that plan set up with a trustworthy advisor is it helped me to NOT get misled by "professionals" who don't pay attention to the individual's unique needs.

Why did you want to become a 2nd Recess coach?
coach erik: I became a 2nd recess coach for mainly two reasons.
first, in 2002, I was in a youth track club called san diego trailblazers. team trailblazers helped me find my stride. they taught me how to run with proper form, how to warm up, how to find my way, and how to train others to be champions. even though I wasn't even close to being the fastest kid on the team, teammates and coaches included me as a runner and person first.
It was with the Trailblazers that I developed confidence in my abilities, found inclusion as a person first, and achieved true athletic triumph. One of my most prized medals is a 4×200 Relay Bronze. My Trailblazers teammates and I ran that race together. They did not dwell on any diagnostic labels, form any preconceived notions of what I could do or not do, or deny me a chance to race in favor of someone faster. My Trailblazer teammates and coaches embraced me as a person first, and as a runner too. I find the same inclusive spirit in 2nd Recess.

Second, I wanted to improve my own coaching capabilities by learning additional drills, practice methods (such as Pick Your Poison exercise cards), and leadership skills that I could apply to training Skybirds athletes, most of whom have autism. All of this has helped greatly, especially in an April 2019 track practice session in which my team and I came across a youth track meet that was being operated at our practice site, and we had no idea about the meet until we arrived to practice. With the extra knowledge about drills as well as improved team management capabilities, I was able to improvise on the infield by leading athletes through various 2nd Recess drills, which helped to keep the athletes focused instead of feeling disrupted by an unexpected situation. Close to the end of the practice, the meet organizers and I arranged for Skybirds athletes to have a timed 400 meter race, which was recorded by the youth track meet officials. 2nd Recess has helped me learn more about drills, practice methods, and team management.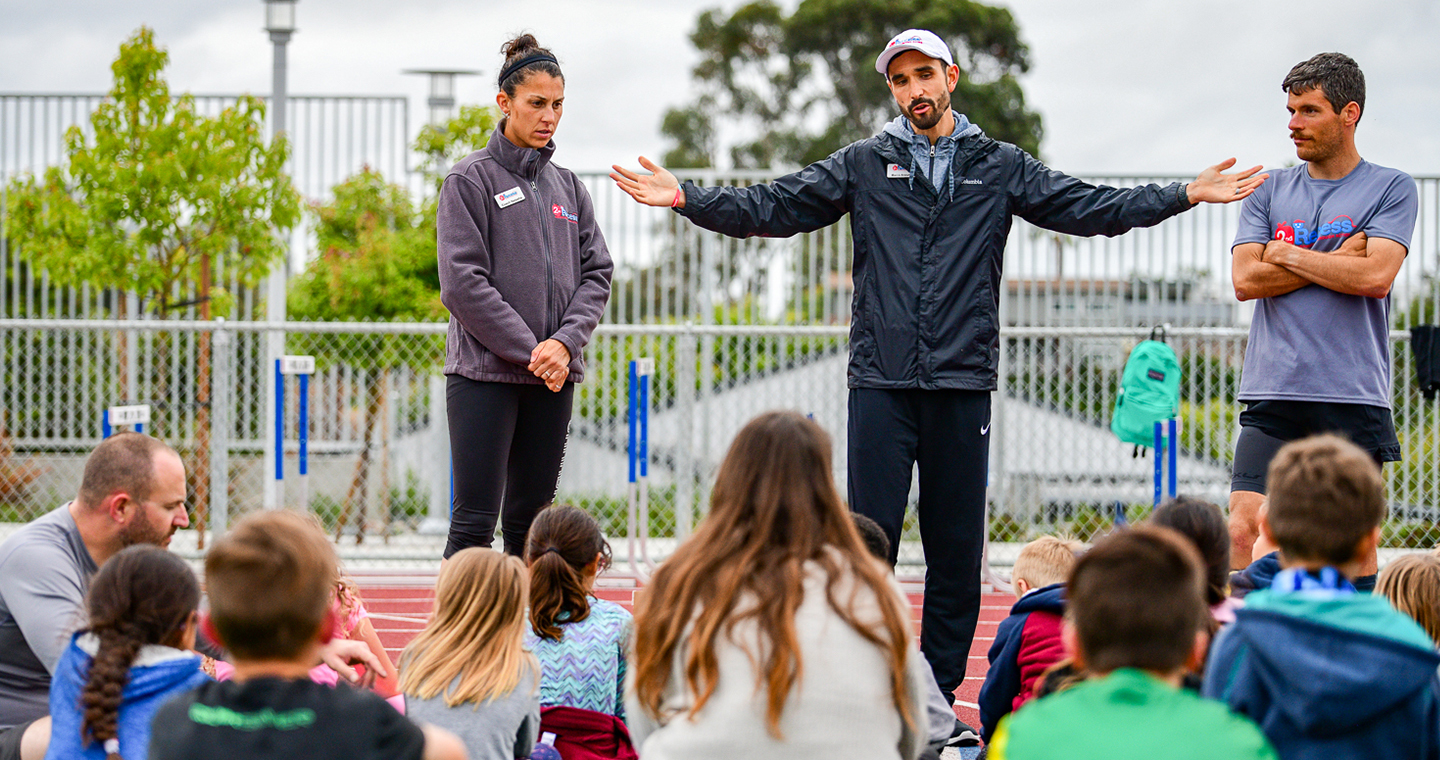 Why is running so important to you?

Coach Erik: When I was a child, my father and I would ride on his motorcycle. I felt one with him and the bike. I loved the feel of wind in my face, and I found the love for speed. After my father passed away in 1997, my mom put me in running in 1998 so I would find confidence and direction in my life. What I found was courage and the love for racing. I love running (especially marathons and half marathons) because of speed, wind in my face, the feeling of being one with a race circuit, and being in control of my destiny. Through racing, I found my stride in the fast lane.

In July 2016, I started wearing my dad's military dog tag, and continue to do so every day. On July 20, 2016 (what would have been my dad's 67th birthday, I went on a night joy run under the light of the full moon. The moon was rising above clouds that were shaped like a falcon's wings, a torso, and tail feathers. The moon was the head. It was at that moment I became "Night Falcon", and it also inspired the name "Skybirds" for the Track & Field team my mom and I would start from the ground up in early 2017.

How do you try to "inspire through action" with everything that you do?

Coach Erik: I try to lead by example as well as guidance that is narrowly tailored to each individual's needs and interests, and that is also geared toward expanding the person's skillsets. When it comes to Skybirds and 2nd Recess athletes, I'm not just training them as athletes; I'm training them to become future coaches.

If you could share something about autism with others, what would you want everyone to know?
when it comes to disabilities, especially autism, there is no such thing as one size fits all. goals and services must be narrowly tailored to each individual's unique needs. this is true in every aspect of life, especially school, employment, and sports. more importantly, individuals who have disabilities are people first.