boogie down bronx runners
If you're not from the Boogie Down Bronx, as our borough is often referred to, you might wonder what sets it apart from the rest of New York City. It is neither the largest nor most populated borough. Yet, a quick search on the web might leave you surprised to learn that it is home to the largest park in NYC, and the original Little Italy. Despite the open space and authentic food options, running and health probably aren't the first associations you'd link to the Bronx, and you'd be right.
according to the county health rankings, in 2020, the bronx ranked 62. there are only 62 counties in new york. the bronx not only came in dead last, but has held this astounding position for the past decade.
The reason for that involves a combination of underrepresentation, social inequality, and lack of resources. Regardless, the Bronx breeds fast thinking and creative people who have a drive to find solutions to their own societal struggles.

That's where people like Lenny Grullon, 39, come in. He grew up in the Fordham section of the Bronx and started running in 2015 when he found himself overweight and figured running was the cheapest way to get fit. Starting one block at a time, he gave himself a realistic goal of running a 5K and quickly achieved that, sparking an addiction to progress. A year of running later, he had a conversation with his close friend, Jean-Paul Fontana, 38, which gave way to the concept of a Bronx running crew. JP's father was a marathon runner, which exposed them to the sport back in high school, and came back now as inspiration for their idea. They paid visits to a few crews in the New York area and noticed that many times they could easily show up, run, and go home without having a single conversation with another runner. This is far from Lenny's style. Perpetually in a state of greeting someone, he knew he had to come up with something that was both welcoming and would put the Bronx on the map in the running world.

Later, Lenny and JP recruited their friend, Chris Guzman, 37, who now holds the title of President of the Boogie Down Bronx Runners.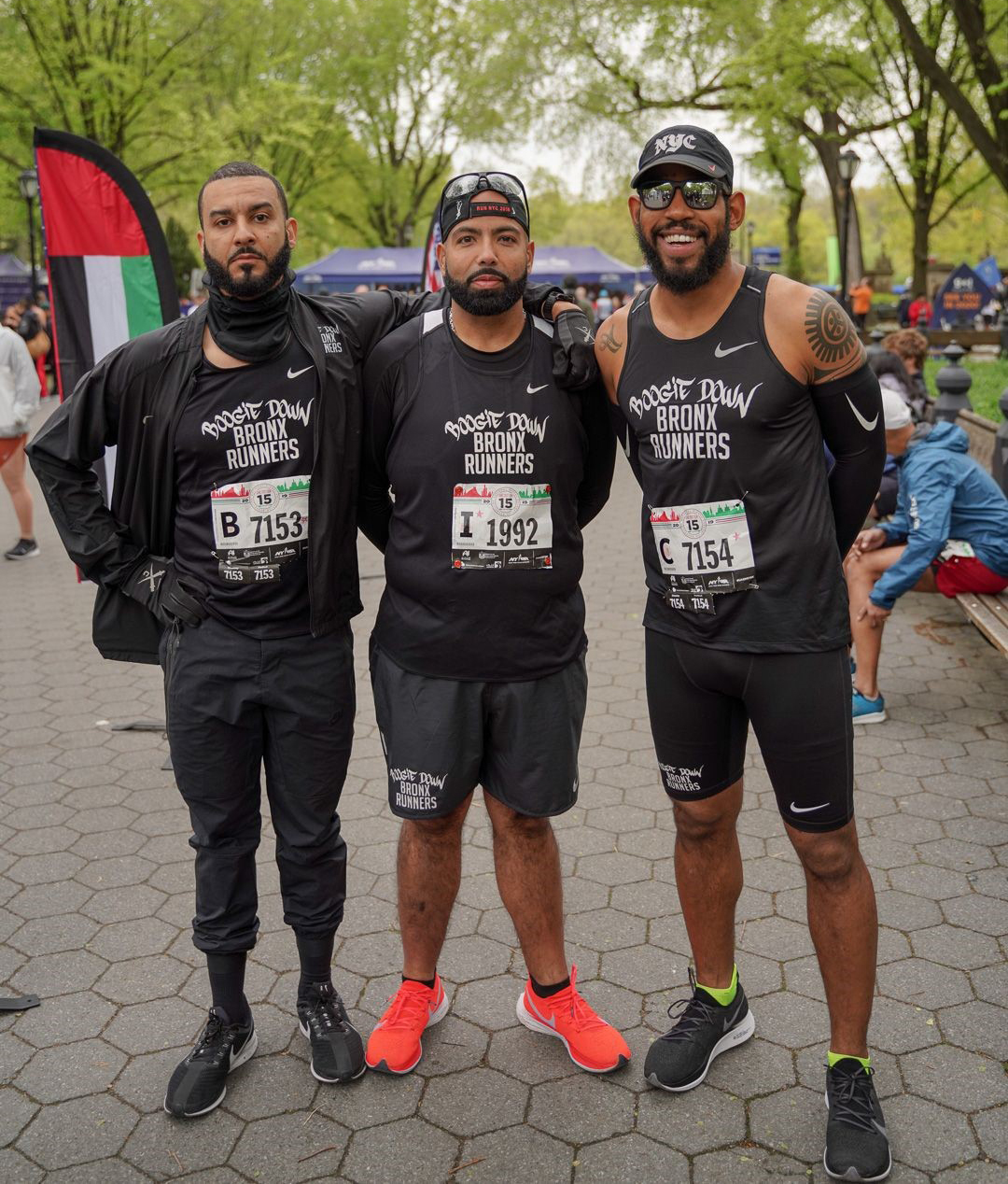 initially all non-runners, they created a running group, where everyone is welcome regardless of pace or expertise and where the focus is so strongly based on friendship and support that it almost feels like getting healthy is a bonus.
Not to say that it has become an afterthought, as running and improving the health of his community are at the forefront of everything Lenny does. He and JP founded the running crew in May of 2017, at which time his initial goal of weight loss had somewhat shifted. "When you find a passion, what's really important is passing that on. I wanted other people to feel that – it changes your whole life," Lenny says.

Lenny, whose smile radiates anytime the topic of his crew comes up, talks about how in the beginning it was tough to get people to show up. The crew's Instagram account had fifteen followers and with no running community in his city to help spread the word, Lenny decided to go old-school. On his Tuesday runs, he would carry paper and tape, and post flyers on lamp posts, bus stops – anything that was on his route. Yes – we are talking ink on paper, people; and it worked! In two months, they had ten people running with them and in six months that number doubled! Today, there are sixty members in the crew with a solid social following.
Boogie Down didn't always have a home base either. Lenny would pick the meeting spot, typically along the train line or in a location with easy access to public transportation. Those are the kinds of things he thinks of; the things he knows might make a healthy lifestyle possible for people in the Bronx. The Tuesday runs would take place whether it was 90 or 10 degrees. If you ever make it to run with the crew in the snow or pouring rain you will feel an energy that is exponentially greater than on fair weather days. On one of these particularly colder nights, the runners caught the eye of a member of the community. Jasmine Lewis, Program Director of the MMCC Pelham Cornerstone, saw the group outside stretching and stopped to inquire about what they were doing. Shortly after, she opened her doors to them to stretch and house their belongings during their weekly runs.

Jasmine says it has been rewarding to see so many changes, one of the biggest being the impact of the Boogie Down banner hanging at the entrance of the center so that everyone walking by can see the efforts being made to give back to the community they live in. Since meeting, Jasmine and Lenny have collaborated on numerous events targeted at raising awareness and resources for causes ranging from the murder of a local Bronx teen, Lesandro "Junior" Guzman-Feliz, to the devastating hurricanes in Puerto Rico and Texas. The Community Center hosts an annual coat drive and each year the Boogie Down runners support by bringing donations before their weekly runs. "Lenny is a person with a big heart. He's not staying silent and that's important," says Jasmine.

She has exciting plans for the future. To make health a priority for the people in this community and stimulate transformation, she feels the seed must be planted earlier. Although the pandemic has delayed many of these ideas, the center will eventually partner with a running organization to fund a program for the children in the community to become educated on the health benefits of running early on.

Lenny started the Boogie Down Bronx Runners to inspire change in his community, but it also brought an enormous change within himself and his own running abilities. It's hard to imagine that he started with the seemingly small goal of running one block and can now boast that he ran the 2019 Chicago Marathon in three hours and forty minutes. It's important to note that while Lenny continues to be the driving force and inspires every runner he encounters, he attributes much of his own inspiration to the members that have joined him along the way.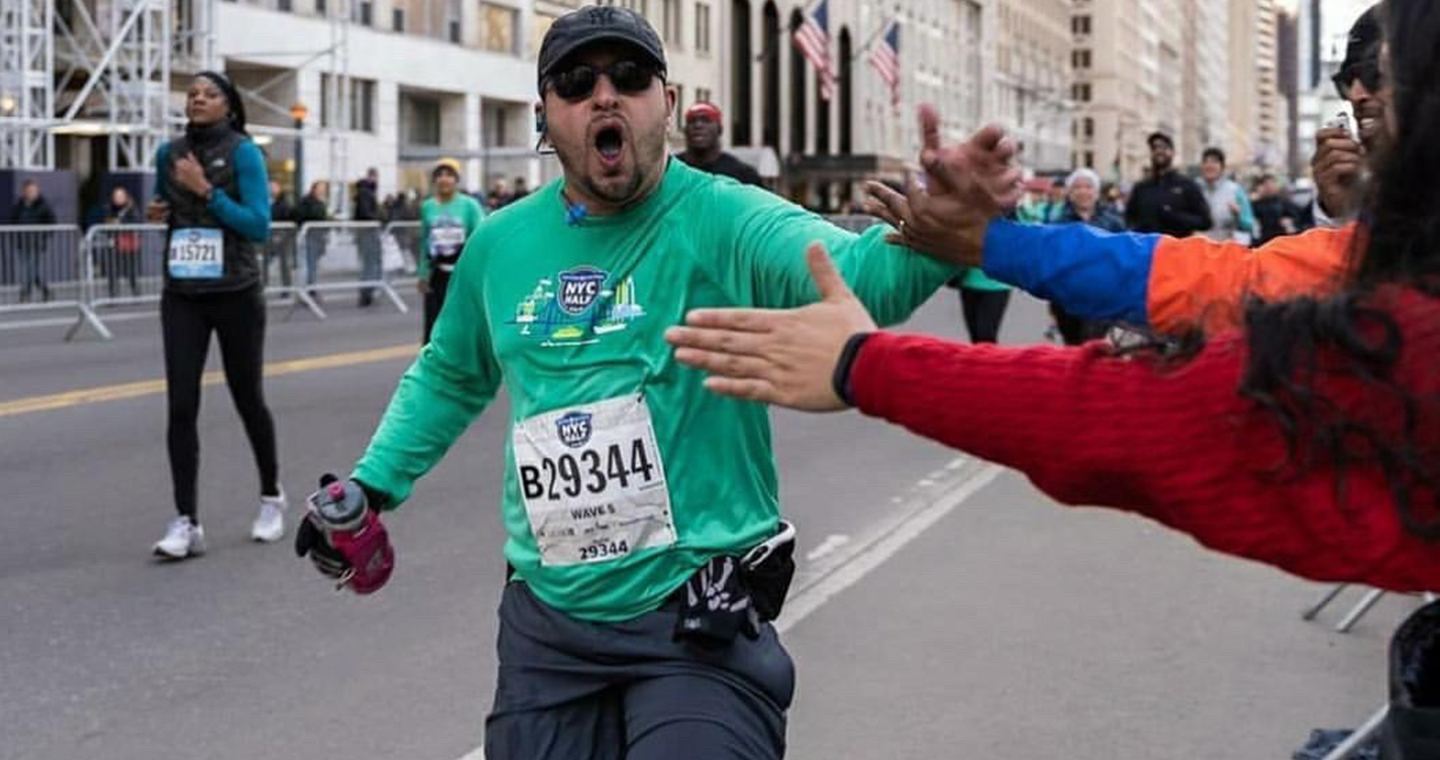 John Mercado, 41, raised in Spanish Harlem and the Bronx, started running with Boogie Down in late 2018 after a friend suggested he use running as a form of therapy. His father had been sick for about seven years and he needed something to help him cope. Being asthmatic and having never run before, John was hesitant.
he showed up anyway amid a torrential downpour and still considers it his best run to date. the thing he remembers most about that day was how he was never left behind.
He recalls how his friend had agreed to buy him tickets to a New York Giants game if he continued to run with the crew while she was out of town for a few weeks. Not only did John get those tickets but ended up running 800 miles in that first year.

A year later, he registered for the NYC Half Marathon; it would be his first and he was training hard for it. Sadly, on the Tuesday before the race, his father passed away, but John still showed up to the community run that same night because he knew he needed to see his run family. John recounts race day with such strength and pride, remembering that it was the first time he ever ran without stopping. "Dad was with me that day," he said. He went on to run the NYC Marathon that year as well.

Sometimes the biggest motivators are the ones that are leading by example and working so hard on their own goals while never forgetting to cheer the loudest for everyone else. Nicole Lopez-Watson, 38, a born and raised Bronxite, is one of those humans continuously named as a source of inspiration by other runners in the crew. She's also known for running races in lipstick the shade of red most people reserve for their fanciest nights out. She joined Boogie Down in 2018 after she had gone to cheer them on in a race, which makes sense since being in a Boogie Down Bronx Runners cheer section is an experience in and of itself. You'll find loud music, dancing, delicious food, and never-ending positive vibes.
nicole didn't care that she had never run before and jokes that she didn't even know the 'run lingo' or how long a marathon was; she just loved that she could be herself around everyone. since then, she has earned 30 medals from running, has run a half marathon every month and has inspired ten other people to do it alongside her.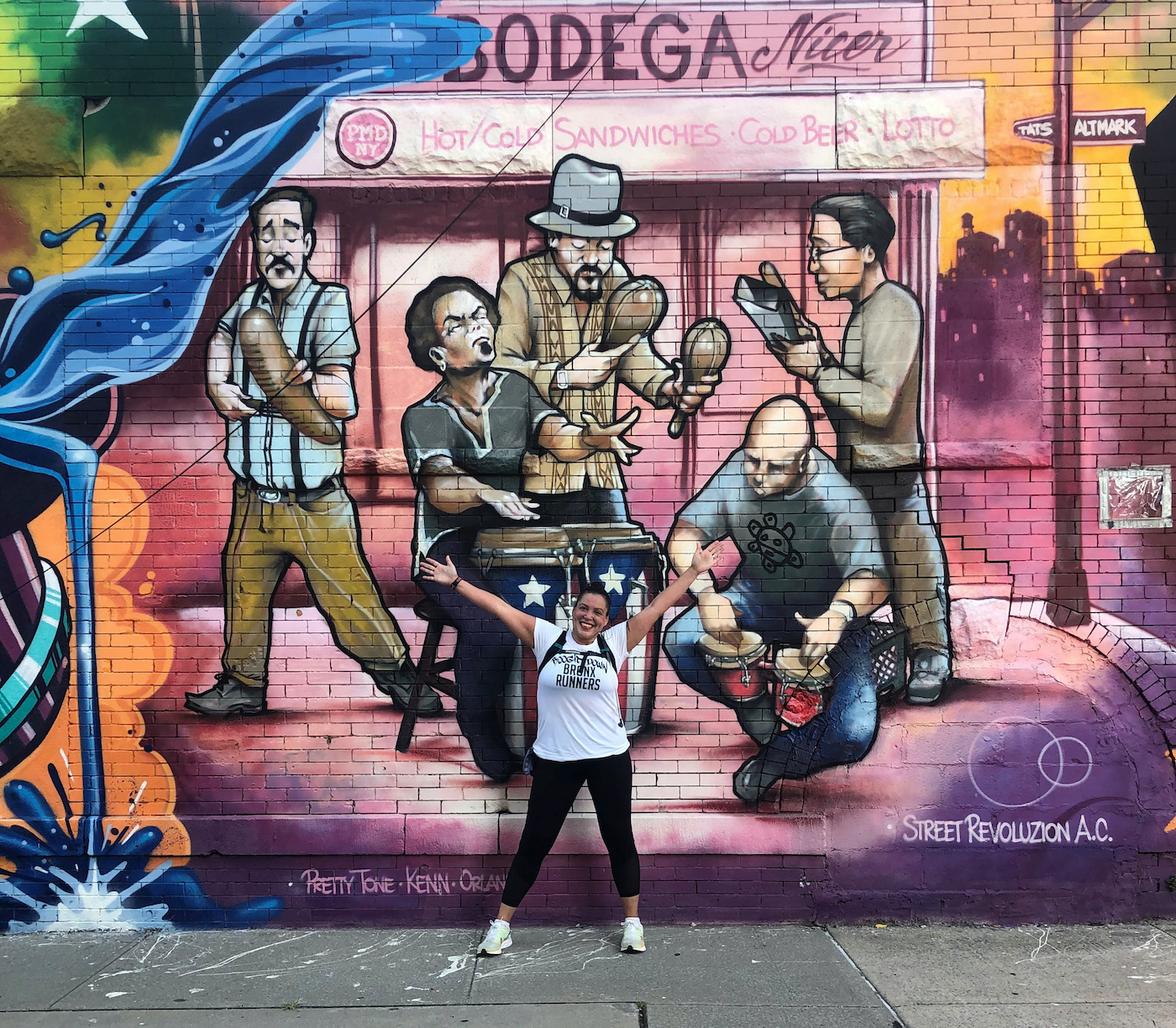 Besides continuing to work on her own health goals, Nicole has encouraged her husband, who has severe asthma, to run and begin working on his health.

One of Nicole's biggest achievements has been completing the 2020 NYC Marathon. Although it was officially canceled due to the pandemic, Nicole made it her goal to run her own route and end at the makeshift finish line the Boogie Down Bronx Runners created in Pelham Bay Park. Nicole says instead of feeling robbed of the marathon experience, she felt even more accomplished having done it this way and simply wanted to prove to herself, "this Newyorican girl" that she could do it.
First and foremost, the Boogie Down Bronx Runners are a running crew – their main focus is on health and wellness and their ultimate goal will always be to graduate from that 62nd spot on the health scale, but their legacy will forever be made up of the individual stories brought together by the Bronxites that now call the crew family.
collectively, they also know that there is still so much more work to be done. lenny hopes to continue growing and eventually would like to use this platform to open a club house in the community, complete with lockers for runners, after-school programs for kids, and GED programs for adults.
Jasmine states, "Lenny is always ready to do more," and shares plans they have to shift the perspective on running.
It's amazing to think that running is one of the most fundamental forms of exercise and requires solely the mind and body, yet so many adults in our community have never been exposed to it. It's also amazing that there are people like Lenny, Jasmine, John, Nicole and now so many others who are doing the work it takes to change that. Lenny's biggest piece of advice for people who have never run before and might be afraid to take the first step? – "Just come."