On the mid-February morning that I connect with Mikah Meyer (over Zoom, of course) I'm immediately greeted with a beaming smile. The youthful 34-year-old's mousy blonde hair is worn short at the sides and neat on top. He wears a lime-green shell jacket (at least, that's the colour it looks on my screen) over a black t-shirt and is calling me from a small hotel room in Oxford, Mississippi. Behind his head and shoulders, the room's plain white walls and bedside lamp frame Mikah and his plastic blue water bottle adorned with an
Outside Safe Space
rainbow tree sticker, the symbol of the programme he created to support, and increase visibility of, LGBTQI+ people "in outdoor and rural spaces."
—
New FBI Hate Crimes Report Shows Increases in Anti-LGBTQ Attacks*
"[The] report shows that hate crimes based on sexual orientation represent 16.7% of hate crimes, the third largest category after race and religion. The report also shows an uptick in gender identity based hate crimes rising from 2.2% in 2018 to 2.7% in 2019"
*Headline from Human Rights Campaign, 20 November 2020
—
Mikah, who was born in Lincoln, Nebraska and now calls Minnesota home, is––at the time of our conversation––18 days into a (Covid-compliant) run across the state of Mississippi to promote Outside Safe Space and, generally be a positive, visibly queer presence, something that he's largely sharing via his Instagram account. At the same time outside of his hotel room, America's southern-most states are experiencing some of the coldest weather on record with many people facing power outages.
"I'm running in about two hours," Mikah tells me, "We're waiting for the snow to stop." Having planned the run with a milder southern winter in mind, he jokes that his home state of Minnesota––where snow at this time of year is usual––"…is like, 'Oh, you think you can escape me for the winter? Boom.'" Yesterday was the most snow Mikah's ever ran in.
A self-identified "Out Adventurer", Mikah first built a following on social media after becoming the first person to visit all of America's 419 National Park service sites in a single, continuous trip. The journey took him three years, from 2016––2019, and, at the ripe old age of 32, presented him with his first experience of running.

"I was two years into [my] three-year journey when I visited my doctor and he was like, 'If you gain five more pounds, you'll be medically overweight for your height.' All of the shitty food I'd been eating while living in a van, and sitting while driving or in libraries writing blog posts, had taken a toll on my body.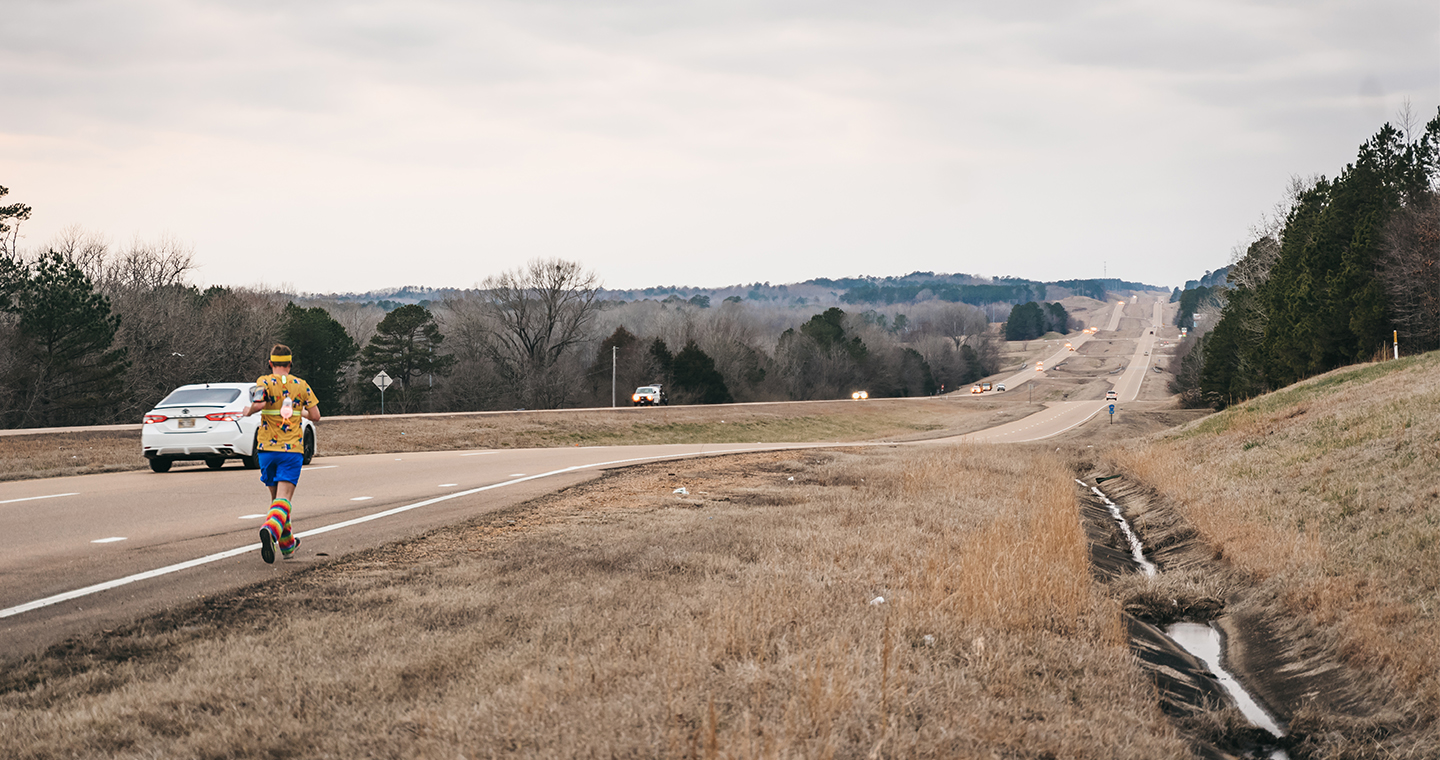 "so, I was trying to figure out how to work out on the road and the only thing that I could do anywhere was running."
I was in Anchorage, Alaska, and I was like, "Well, time to start!" I put on Kim Petras' Heart To Break––which, at the time was new [laughs]––and I ran around the block."

Mikah's National Parks challenge was also where the glimmer of an idea for Outside Safe Space began bubbling to the surface after finding that, time and again while out on the road, people who were initially welcoming would treat him differently once they learned he was gay.

"One really powerful example is that, my parks project was sponsored by an outdoors organisation for the first year and a half of the journey. Around that time, I'd started being much more vocal and visible about being openly gay––taking rainbow flag photos in front of iconic natural features, among other things.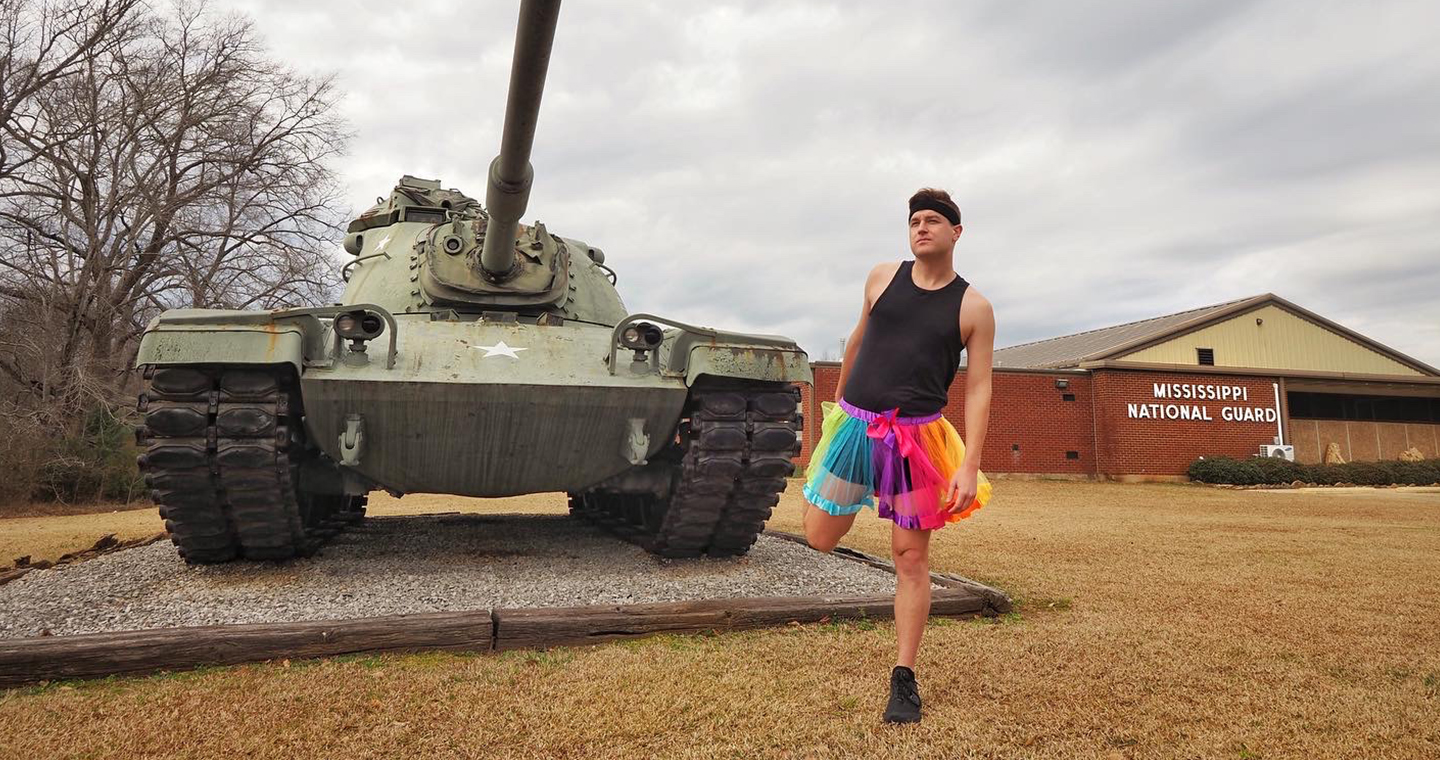 "once I did that though, [the organisation] called me—and also put it in writing––that they were immediately terminating my contract for doing 'too much LGBT advocacy'."
"Other than that, everything from having people tell myself and my boyfriend not to 'rub it in their face' if we held hands on a trail, to having major brands tells me at an Outdoor Retailer convention that they couldn't do LGBTQ-inclusive marketing because it'd be 'too politically risky.'"

It was an experience other LGBTQI+ people he met throughout his journey––including National Park Rangers––could relate to:
"I heard from all these people who shared very similar stories [to mine] and so, it really planted this idea in me, like, how can I help all of these people who are experiencing the same thing?"
It was in March of 2020, as Covid-19 took hold internationally, that running re-entered his life and became a "saviour" for Mikah. At the same time, his desire to put something good back out into the world took hold.

"In Minnesota, we were basically told not to leave our homes at all––except for the doctor, the grocery store or to exercise alone. That first week I was staying up until five in the morning watching Netflix and eating shit that makes you feel good in the moment but horrible afterwards. After a week of that, I was going nuts… I hadn't really run over winter as I'd injured myself and it was just too icy and cold, but it was finally starting to thaw and I just thought, 'I have to get out of the apartment––I'm going for a run.'"

Like so many people have since the worldwide lockdowns, Mikah truly discovered the psychological benefits of running. "It was so mentally positive. In a world that was spinning out of control––I could control my pace, my breath and my route. It was the one thing I had to hold onto everyday. Within two weeks, I ran 15 miles in one run which was the most I'd ever run in my whole life."

Two months after Mikah began running again during the pandemic, 46-year-old George Floyd was murdered by a white police officer in downtown Minneapolis.

"That happened just a few miles from where I live and so, I was going for my daily runs and now there were murals everywhere and protests, and people were saying: 'White people, what are you going to do to fix this world that you have made this way, to make it better?'
"I would go home every night after my runs and think––how can I help to make the world a more equitable place?"
"That's where Outside Safe Space came to be" and, Mikah clarifies, "That's why the trunk of the tree on the logo is all different skin tones because, like the Progress Pride Flag [which evolved from the Philadelphia Pride Flag], I wanted to point out specifically that, no matter your skin colour, you're a part of this community."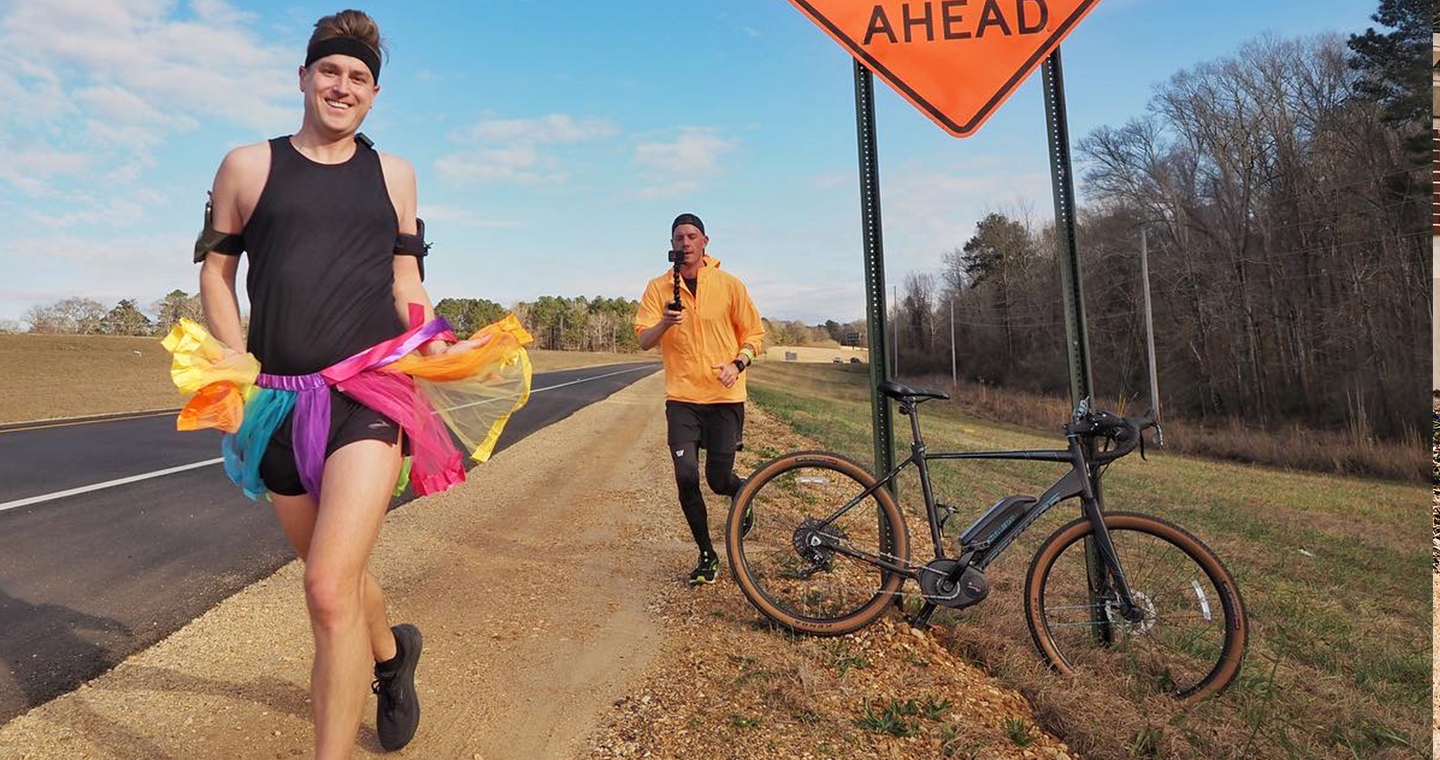 Having learned that an "epic outdoors adventure" was a great way to get attention for something but––with strict travel restrictions imposed the world over––Mikah thought, "Well, I've been running a bunch––maybe I can just run across Minnesota!" And that's precisely what he did. But for Mikah, it wasn't enough.

"I was halfway through the Minnesota run and getting messages from people saying [it] was awesome, that it makes sense. A lot of people were saying, 'I'm an ally and I've been trying to find a way to make queer people feel more welcome in the outdoors, but I don't know how.' [That's why with OSS] you just put a little pin on your shirt or backpack handle or hat, and you don't have to say a word," which, he jokes, is perfect for his famously "passive-aggressive" fellow Minnesotans.

"I was hoping [the Minnesota run] would take off and go viral but… it didn't. I mean, it was successful, but it wasn't a booming, overnight success. I needed to keep doing more outdoor advocacy to bring attention to this new programme. And so, that's when I thought, 'Well, I now know I can physically do it and, [as] we still can't leave America because of the pandemic, I'll just run across another state!"

Mikah landed on running across the state of Mississippi after publishing an informal poll on his social media (he currently has 66,000+ Instagram followers).
"that's when I asked my followers: 'what's the most homophobic state? where do they need this message the most?'"
And what was super powerful, was somebody said that they volunteer for
The Trevor Project's
crisis line, and this person shared that, anecdotally, the majority of his calls come from either Florida or Mississippi. So, I had all of these reasons. Yes, [Mississippi] was voted the most homophobic state, but it's also right next to Memphis. I used to live in Memphis and so I have a support system there."
When Mikah revealed to his closest friends his plans to run across the Deep South state––famed for its music, magnolias and participation in the Civil War––they weren't so convinced: "Legit half of them were like, 'Please don't, you'll get killed,'" he explains. "Mississippi just has this reputation of being super unwelcoming [to queer people]."
And so, itineraries were drawn up, hotels were booked, photographers and filmmakers––in the shape of director Derek Dodge (CNN, Discovery, and MTV) who's filming the entire run––were recruited.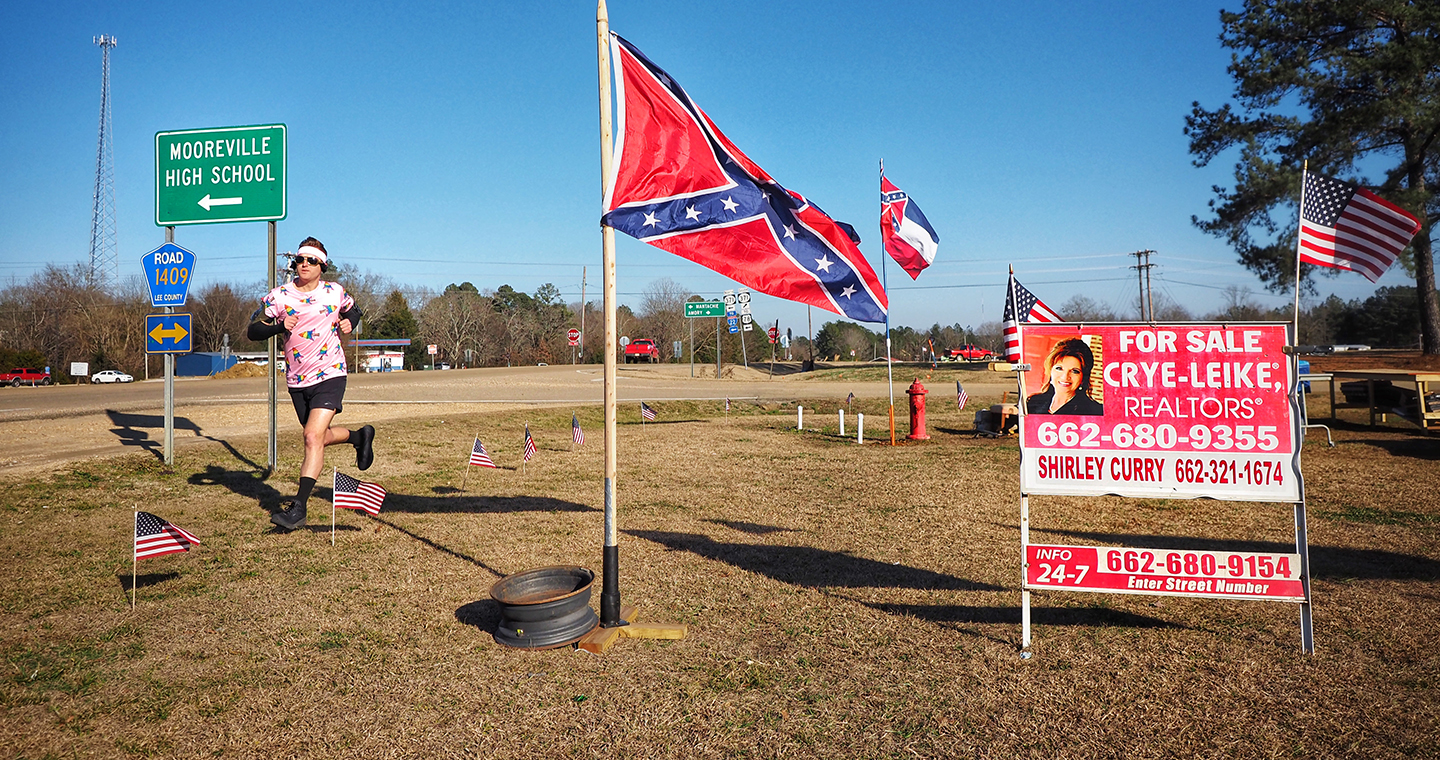 "I've a feeling we're not in Kansas anymore", Mikah wrote on one of his first posts to Instagram, while the team followed the Mississippi River south into 'The Magnolia State', as it's often nicknamed.

"Driving across the border, there are Confederate flags everywhere and, Mississippi is also the poorest state in America by income, so there's just like, a lot of wild dogs running around, and roads that are falling apart. Like, now, I'm running [on roads] where there's no shoulder, it's loose dirt and rock, and my feet are slipping and I can't go on the pavement because there's no space between me and the cars. So it's just like, culturally and logistically, a lot scarier [to me]."

Now more than halfway through his running challenge, I wonder what's surprised him most? "I thought it would be a lot of direct homophobia––people yelling gay slurs, throwing things––and I have not experienced that. It's been a lot of silent homophobia.

"For example, on the Welcome To Mississippi sign it says 'Birthplace of America's Music' because, basically, their biggest tourist stop is Elvis's birthplace. I ran to Elvis's birthplace as I thought, 'This is a poor state, I'm a travel writer, let's help them out and bring visitors here.' And so, we went there on a Monday and scouted the location. On the Tuesday, I ran [there] and we took pictures and videos and promoted it. And then on Wednesday, I turn up and the staff come out yelling at us like, 'You can't be here, you can't film here. Get out of here!'

"My guess is that they looked me up finally, they found out I was gay, and then they were like, 'Oh, hell no.' And, it's just like this silent homophobia that I think every queer person is used to. And, that's the thing that's hardest, because I've met people down here who've shared with me personally that they're queer and that they have a partner––but they can't publicly share that because they're afraid they'll lose their job and their community.

"It's heartbreaking, because I live in a city that has lots of legal protections for queer people, and I'm totally out and my friends are all out, and we go to the straight clubs downtown and people are glad to have us there and, to realise how many people still live––in my same country––and can't be themselves because of the culture surrounding them, is heartbreaking."
Looking back at what Mikah's achieved over the last couple of years, I wonder what his overarching goal is––what's the dream outcome? How might his journey for better representation help the wider LGBTQI+ community?
"my hope for all americans, and for everybody around the world, is that they can feel as free to be themselves as I feel in my downtown minneapolis home."
Because, one of the reasons I moved there––after literally visiting every state and territory in our country––is that I felt like it was the place that would make it easiest for me to be myself."

Once he completes his run on 28 February (snow permitting), Mikah has plans to travel to Jackson, the state capital, to speak with local queer community leaders there. He's also reached out to the Governor's Office and to "local politicians who are anti-gay" to ask if they'll speak with him about what life is like in Mississippi for LGBTQI+ people.

"I'm not there to yell at them––I just want to hear their perspective," he makes clear. "And, I think that's really poignant because right now there are two Bills going through the Mississippi legislature –– one which affects trans youth participation in sport and another one about healthcare. Again, it's heartbreaking because in Minnesota––literally, the other end of the Mississippi River––they're expanding access to healthcare for trans people and making laws that are protecting people. It's like, we're going in one direction and, at the other end of the Mississippi River, they're going in the other."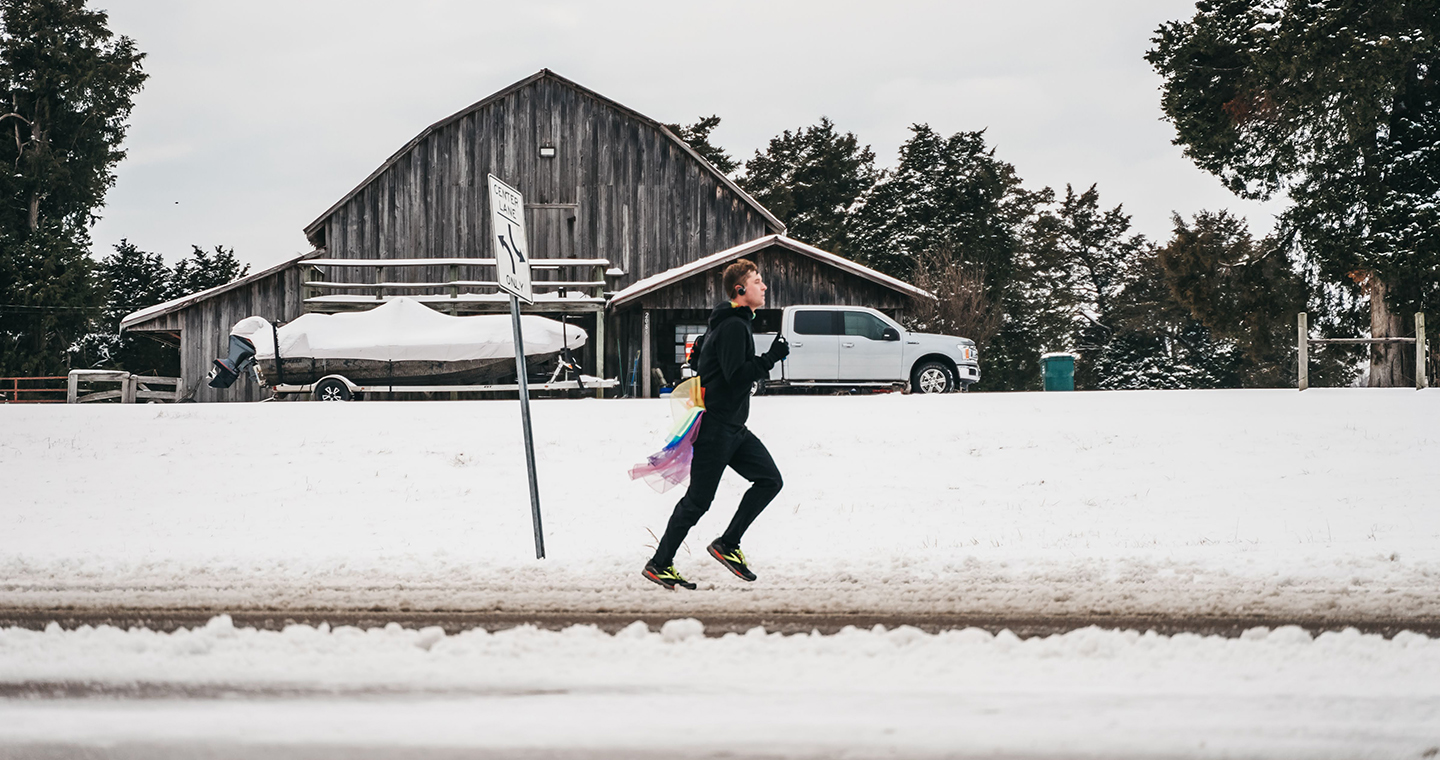 As has become strikingly clear during my call with Mikah and, as he neatly summarises:
"depending on where you live in america, your life will be incredibly different, as a queer person."
Not least, it's necessary to add, for members of the LGBTQI+ community who aren't as widely represented, including those who identify as Queer, Trans and/or Intersex People of Colour (QTIPOC).
As our call comes to an end––it seems the snow is finally letting up––the conversation turns to why Mikah chose running as the 'sport-come-community' through which to raise awareness of the challenges queer people can face when spending time in America's outdoor and rural spaces.
"One of my thoughts [with the] National Parks journey, was that [our parks] are something that the most liberal environmentalist loves and that my cousin––who believes he can heal gay people through his prayer––also loves. And so that was a way of relating to people who may not have thought that they have anything in common with a gay man.
"What's cool with running is that, it's such a universal sport that [someone] can look at me doing this and, even if they don't consciously [think] 'Oh, well, I like gay people now,' it will start to break away at whatever stereotypes they have, when they see me setting a world record or running across their state." And in a unicorn onesie, at that.
For more, visit
mikahmeyer.com/runacrossms
. Follow Mikah on Instagram
@mikahmey
and Outside Safe Space
@outsidesafespace
.
—
The Run Across Mississippi was made possible by support from Mikah's partners, Eddie Bauer, Schwinn Bikes, and Brooks Running, whose gear he used throughout the journey, plus supportive individuals who believe in and donate to the Outside Safe Space cause.